Ed;  I wrote this seven years ago and it seems very relevant today though I seem to be two years out!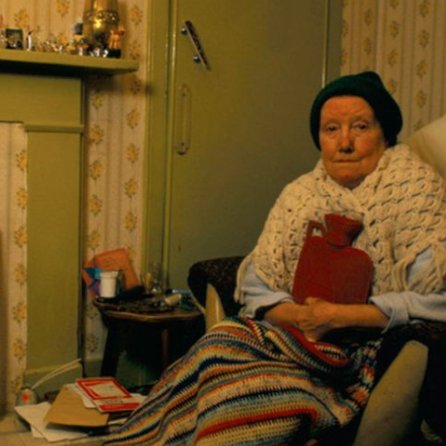 A tragic story. Mrs E Thornton was found dead in her home on Monday 16th January 2020 in her terraced house in Blackpool. She had died of hypothermia and neighbours said she hadn't been seen for over a week during the recent cold snap. She always saying that she couldn't afford to eat, and heat her home. Elsie is the 306th person to die of hypothermia in Blackpool since mid-November. She left no relatives as her husband left her decades ago and her disabled daughter died a few years ago.
Elsie's life was sad and uneventful but her funeral was anything but, as it turned into a riot and the police were called.
The service was led by the Rev Jim, known to all as the Green vicar, who is the national chair of the Eco-terrorists for Christ (ETC), formerly Frack-Free Christians. They were successful in persuading all churches to oppose fracking some years ago and along with other Eco-activists ensured a stale-mate coalition in 2015. As a result fracking was banned  and the last three years have seen severe gas shortages – depending what mood Mr Putin was in – and regular electricity cuts. Petrol is now £5 per litre at 2014 rates.
Even though Aunt Elsie had no relatives hundreds went to the crematorium, with many standing outside in the freezing temperatures. Before the service started many guests were complaining about the cold and saying "there is lots of ****ing gas under here to keep us warm." They swore about the government and the Rev Jim. An audible mutter was heard when he arrived in his Land Rover Discovery. "How can he afford the ****ing petrol?" raged one mourner. Another pointed out that the charity Grand-daughters of Robber Barons were funding him. Like all clergy, especially after churches divested from fossil fuels he served his parish on a  house-for-duty basis.
Back to the funeral. After a few prayers, a bible reading and a reading from an ETC theologian, the Rev Jim gave a sermon. He quickly went through Elsie's life and then sought to theologise, as he thought, on the manner of Elsie's death. His theology seemed have more in common with IS theology as it was full of references to martyrdom for the sake of the climate. He then went on to say that Elsie was a martyr for climate change and that God would reward her for that. He explained that to get CO2 concentrations down a puritanical austerity was needed and sadly some would die, because of the high expense of energy making both food and heating too expensive for the poorer of society.
When the Rev Jim said Elsie was a martyr to climate change  the mourners erupted in anger and some went forward as if to lynch him. It was then the fight broke out with members of FFF (Fylde Freed from Fracking) and the police were called. They were late as they came by bicycle.
Later the Rev Jim was interviewed. He explained how big business and fossil fuels were the greatest of evils and how Ps 95 vs 4 means that all fossil fuels must stay in the ground  and that all people were called to be martyrs for this cause. When asked about his Landrover he replied by saying it was necessary to carry out his work for the Gospel of Climate Change. He stormed out when the interviewer likened him to American fundamentalist preachers with private jets.
Sadly many more Aunt Elsies died that week.
*************************************************************************
Yes, this is far-fetched, but I have found some anti-frackers get upset when I suggest that a ban on fracking will cause an increase in deaths from hypothermia. I was saying this before the Ukraine crisis when there was no threat to Russian gas. It is quite clear many in parts of our cities are suffering at present and Food Banks are a symptom of that. Too many are having to choose between eating and heating. As a result both have to be tackled in many different ways and by different groups. Both are intractable and whatever actions are taken by local Food Banks, councils of all levels or government much of the problem will remain. To focus on heating, government must seek to ensure that all necessary energy, especially electricity and energy for heating, is affordable. To me that is Energy Justice and part of Social Justice. The trends show that energy is becoming less affordable as those who are comfortably off can testify. Energy bills have shot up in recent years, with all the attendant concerns. Even so, the fall in petrol, diesel and gas prices in October may not be permanent, but even then they are still unaffordable for the poorest of our society.
So where are we now?
Three things came together a few years ago; an awareness of the seriousness of climate change, which I share and have done since 1998; the depletion of North Sea Gas necessitating an ever-increasing amount of imported hydrocarbons (and also coal); and thirdly the possibility of fracking. They key years are 2008 and 2009, as two things came to the fore then. First, Climate Change was on everyones' lips. Some woke up to the seriousness of Climate Change, others went to the other extreme and dismissed it as junk science or not an issue. Both suffered from bandwagon effects. Dialogue on Climate Change effectively ceased and the issue became hopelessly polarised. More and more, all environmental issues were considered through the lens of Climate Change and soon this was attached to appeals for disvestment in fossil fuels.
Fracking took off in Pennsylvania in 2008 and soon became controversial. (The behaviour of some fracking companies left much to be desired and literally fuelled the anti-frackers, or Josh Fox's film Gasland, which like all good propaganda contained some truth………. This was said to me by a fracking CEO in a restuarant in the heart of Bradford County, Pennsylvania.) Fracking does not have an unblemished record, though recently frackers have cleaned up their act and State and Federal regulations in the USA are tighter, but still not as tight as in Britain, despite what Mike Hill says.
However when it comes to heating too many greens see everything through the lens of climate change (or rather a distorted ideological lens), and argue that fracking must not take place as fossil fuels must be left in the ground. Often no other consideration is conceived. This is accompanied with a blind faith in renewables and a lack of realising that renewables will not provide enough energy even for the most basic lifestyle in the foreseeable future. There would not be enough energy even for food or manufacturing bicycles. I cite bicycles as I am a cyclist – only 4900 miles to the end of October this year. Bicycles consume much energy in manufacture and at least one gallon of petroleum (undefined!) is required just to make one tyre, which will last 2000 to 4000 miles. As a result anti-frackers are very naïve about the energy needs of the world, even a lifestyle which excludes cars and expects house temperatures to be 55 deg F or 13 deg C, which we had in the 1950s.
All this is coupled with a negative view of fracking, which regards Gasland as a definitive documentary and repeats all the misrepresentations of Frack off and other fractivist groups. They give the usual fractivist litany of of
Gas worse than coal
earthquakes
pollution of aquifers
pollution of air and groundwater
destruction of farming and tourism
and so it goes on in their fracking bullshit bingo.
Sadly these views are also put forward within the churches, usually by those with no technical skills. There is also a blunt refusal to consider any other view, even those of DECC, British Geological survey, the Royal Society (and American equivalents) and to demonise those of a different view (like mine). Too often, any academic like Prof Peter Styles or Dr James Verdon is dismissed as an industry shill. I have to admit that, as a geologist who has worked in a mine before ordination, I am more inclined to believe geologists of this calibre, than priests with Ph Ds in literature, or self-styled experts from Frack Off or Residents against Fracking; Fylde, or even the Green Party or Greenpeace.
https://michaelroberts4004.wordpress.com/2014/06/09/not-for-shale/
https://michaelroberts4004.wordpress.com/2014/03/31/the-fracking-fylde-fracking-comes-to-lancashire-march-2014/
http://www.greenchristian.org.uk/archives/6128
I have been told that there are two opinions on fracking, with the implication that the two, i.e. for or against, are equally valid. However there are three; the ill-informed "Drill, Babe, drill" who doesn't give a damn about the environment, the anti-fracker, who are either ill-informed or duplicitous, and those like the DECC and Prof Styles who actually look at the evidence.
All this results in postponing fracking in Britain, making us dependent on fracked gas from the USA, Russia or Qatar. This keeps the prices up and endangers the life of every Aunt Elsie, produces more GHGs due to transporting methane as some methane is lost in transit. It also weakens the economy, but that may not concern some idealistic ideologues. After all, as Occupy groups and Naomi Klein say, capitalism causes climate change and big oil is the root of the problem!!
However, technical questions apart, fracking is about social justice and concern for the less well-off in our society. Within Lancashire one only needs to go to parts of Preston or Blackpool and see the deprivation. This is better done on a bicycle than in a car, as you see more. Consider the houses in poor repair, with loads of draughts and mould on the walls. Imagine not have money to feed the meters to get a little heat or electricity – often at inflated prices. Imagine the meals too; five-a-day is not even considered. The diet is so often unbalanced. Here Food Banks come into play, but they only scratch the surface and temporarily deal with symptoms.
There is no simple solution to these multi-faceted problems as anyone who has worked in Inner Cities knows. Yes, I worked in Inner City Liverpool for seven years at the height of that city's problems. Where I lived in Wales had some of Wrexham's cast-offs. As an aside I have only once been told to fuck-off by a parishioner and that was a peer of the realm! I now live in a comfortable area of the Fylde, 10 miles from potential frackland. There is little poverty here, but it is only ten miles away in Blackpool. For them Food Banks are not really an answer, as it is like providing an Ambulance to be on stand-by at an accident blackspot. Most important is to give people employment opportunities, but that is beyond my scope here. On this I note the crass stupidity of those who opposed Cuadrilla funding training at Blackpool and Fylde college, thus denying youngsters hope.
To return to heating homes. Much is made of Fuel Poverty today and again some groups seeking to end it have the face-palming policy of opposing fracking, thus condemning more to fuel poverty. They cannot see that more available gas would help to alleviate the problem. But no! Their ideology says otherwise. Some Christians are as uncaring on the subject.
Well, in this rant I have avoided all questions on the economy and have simply focussed on the poorest of society. A wilfull, misinformed opposition to fracking will simply make their lot worse and surely cannot be entertained by any self-professed socialist or Christian. I could appreciate that a fracking "robber baron" drilling for shale and polluting aquifers in the USA might think that, but not anyone with a concern for social justice and a concern for the poor of society. It does not matter whether you look to Keir Hardie or William Temple or whatever faith or unfaith you follow.
It is a matter of social justice to remove Fuel Poverty and we have one solution locked up in these flaky rocks 8000 feet below our feet. Yes, if I drill down from my house I will hit the Bowland Shales at that depth.
Social Justice requires that we frack, for Aunt Elsie's sake..
Remember;
Climate Justice + Social Justice = Shale Gas
Notes
Several of my blogs deal with fracking, especially on the Fylde. Here I ignore all the usual concerns about fracking to focus on Fuel Poverty.
Kier Hardie was a founding socialist and William Temple was Archbishop of Canterbury from 1942-4 and his social thinking influenced the founding of the Welfare State
My reference to Psalm 95 is an allusion to a theological expert on climate change!!