At the end of the 19th century fuel for transport was causing two serious problems in Britain.
First, the emissions from vehicles was unacceptable as the streets were piling up with horse shit faster than allotment holders could remove it.
Secondly, an ever increasing amount was needed to grow the fuel needed for the engines of the vehicles, otherwise known as fodder.
For longer journeys another carbon-based fuel was used -coal – but that caused problems too.
Then a cleaner fuel was found – petroleum!
Yet today the so-called green electricity provider Ecotricity reckons grass would provide the gas needed to provide all we need! Really to heat homes for 80% of houses and fuel vehicles?  I am sure someone has worked out the area needed on the back of an envelopes and taken into consideration the winter months when grass hardly grows.
Perhaps Dale Vance is taking Grass or something else to suggest this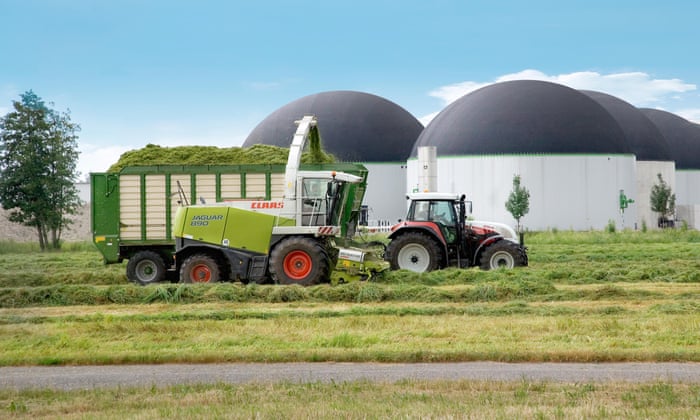 Even those whose livelihood is developing biogass regard this idea as unsustainable, but, of course the Guardian disagrees.
https://www.theguardian.com/environment/2016/nov/18/could-gas-from-grass-rival-fracking-to-heat-uk-homes
But some biogas plants cause local problems
Here is a good assessment from Lancashire for Shale , a groupwho consider all forms of energy and not just one!
Ecotricity has been granted planning permission for an anaerobic digestion plant in Hampshire. We take a look at its plans for 5,000 of these "Green Gas Mills" around the country.
It's an attractive proposition: taking an endless and abundant supply of grass and turning it into gas to heat homes across Britain. Ecotricity says …
Source: Grass-to-Gas or Fracking? – Lancashire For Shale
Here it is.
Ecotricity has been granted planning permission for an anaerobic digestion plant in Hampshire. We take a look at its plans for 5,000 of these "Green Gas Mills" around the country.
It's an attractive proposition: taking an endless and abundant supply of grass and turning it into gas to heat homes across Britain.
Ecotricity says gas from grass has the potential to provide the needs of 97% of Britain's homes by 2035.
It's founder, Dale Vince says: "We now have a more than viable alternative to fracking, which people have been fighting tooth and nail up and down the country to prevent. It's not too late, because fracking hasn't started yet."
Is he right? Could grass-to-gas eliminate the need for fracking and, if so, how feasible would it be in practical terms?
On balance, it doesn't look like it.
Even if it proves technically valid – and it seems that's doubtful – Ecotricity's plans would likely meet just as much local opposition as fracking because of visual and traffic impacts.
The site for which Ecotricity has obtained planning permission is 12 acres in area, or 4.8 hectares. That's over twice the size of a shale gas pad.
But once constructed, a shale gas well site will be much less visually intrusive than an anaerobic digestion facility with its permanent and industrial-looking tanks, reception hall and silos.
Additionally, a producing shale gas pad will not require a constant stream of lorries to deliver feedstock and take smelly byproduct digestate away to spread on fields, unlike an anaerobic digestion plant.
According to Ecotricity's planning application, the main road by which heavy goods vehicles will enter and leave the site will see an average of 27 vehicle movements per day from June to September on the northern section and 21 per day on the southern approach.
So that's a total of 48 vehicles a day for four months or over 3,800 in total – and higher than the average traffic movements that would stem from bringing a shale gas site into being.
But in the case of the Ecotricity site, those traffic impacts would be evident for every year of operation whereas a producing shale gas site will be responsible for very few traffic movements.
It's taken Cuadrilla over 2 years to obtain planning permission for a single site in Lancashire that would be less visually obtrusive and responsible for significantly fewer lifetime HGV journeys, and so it's hard to imagine it being much easier for Ecotricity.
It submitted its original application in January 2016, which was turned down in April. It tried again in July and obtained planning permission in October – taking 10 months in total.
To build 5,000 of them between now and 2035 would require Ecotricity to construct over 2 plants a year, every year, which given the time it takes just to navigate the planning and permitting processes involved seems implausible.
Then consider the cost – £10 million each if the Hampshire site is anything to go by – bringing the total to an eye-watering £50 billion which, according to Dale Vince, would only be possible with public subsidy, which is why Ecotricity is lobbying the government to let it cash in on the Renewable Heat Incentive (RHI). It's quite unlike the £33 billion EY say it would cost to build a mature shale gas industry and which would be funded entirely through private investment with no subsidy.
Putting all other arguments aside, you're then left with the question of why do it in the first place.
If there was an urgent need to find a better way of dealing with unwanted grass, then turning it into energy like we do with food waste and farm slurries would be a great idea, because it would essentially kill two birds with one stone.
But there's no such problem with grass.
So what other benefit would there be to industrialising the countryside with 5,000 of these cumbersome looking facilities?
It wouldn't do anything to decarbonise home heating because the gas it produces is still methane, and still contains carbon that would be released to the environment from the exhaust of central heating boilers up and down the country. So there wouldn't be any net benefit for the climate, in fact, it would arguably be worse because of all those extra truck and tractor movements needed to harvest and transport grass and then take away the biosolid residues.
A smarter move would be for Ecotricity to team up with the fracking industry and co-locate shale and biogas sites in the same locations, sharing the risk of planning and permitting and cutting down on the costs of the infrastructure needed to get the gas to market (such as grid connections) and making grass-to-gas more commercially viable with fewer sites – moreso if the biogas plants could also accept food and farm waste from rural communities.
It looks like grass-to-gas could be a companion to shale, but it couldn't be a competitor.