In June 1842 Charles Darwin undertook his last geological field trip. He was at his father's house, The Mount  in Shrewsbury, that month and after a winter of sickness, he felt somewhat better. Thus, he went in his gig to Snowdonia to assess whether Buckland was correct in identifying proof of a former Ice Age. In October 1841 William Buckland travelled to Wales with Thomas Sopwith (his grandson designed the Sopwith Camel, a WW1 fighter plane) to see whether Agassiz could be right about a former Ice Age. In a few days of horrendous Welsh weather Buckland identified all the main glacial troughs
Buckland dressed for Welsh Glaciers by Thomas Sopwith, note the writing. This shows Sopwith's sense of humour, but some humourless sciency types thought it was getting at Buckland for believing a young earth. That didn't stop a recent biographer of Buckland saying it was on the way to Scotland!!
View from top of Y Garn 3104ft showing the Llugwy trough leading to Capel Curig, Llyn Idwal, a morainic lake.
To the left is Nant Francon, viewed below – with embellishments.
In 1831 de la Beche painted this watercolour to show that little rivers could not produce big valleys. He was right, but ideas of glaciation were a few years ahead.
This map shows the routes of both Buckland and Darwin in 1841-2 with some further details
This map shows the locality of Cwm Idwal with the lake/llyn in the centre.
Darwin spent a few days in Capel Curig and then several around Cwm Idwal before moving on to Moel Tryfan and then Llanberis and Snowdon.
For further reading
Darwin, Buckland and the Welsh Ice Age, 1837 – 1842, Proceedings of the Geologists' Association 123 (2012) 649–662
r original paper
And now some photos of Darwin's boulders
Most iconic are the boulders he found in Cwm Idwal dubbed the Darwin Boulders. Here is the partial transcription of his 1842 notes, which are often scarcely legible
60- 80 yards west of exit of river – a gigantic boulder

broken into 4 tabular surfaces thus rest on their narrow edges

upright. the two lower ones have fallen over + rest on

neighbouring grt boulder _ the two upright plates stand

transversely on gentle slope in which they rest _ the fragment and

so far a part this xxxxx xxxx must have been

thrown with force where it now stands, but not rolled

from neighbouring precipice otherwise plates have been thrown

over . _ action of ice. fallen though . _ example xxxx

stronger . =
First, the boulders lie to the EAST of the "exit of river" and not the WEST, which confuses all. It is alway great to confuse students!!
He sees the 4 (angular ) bits as the original boulder which fell through the glacier and landed on another which shows a few marks of being water-worn.
At that time Buckland and Darwin only noted AN Ice Age and not a succession of them as became apparent later. This in itself was a great breakthrough
The boulders with Twll Du/ Devils Kitchen behind which he described in 1831
Boulders with Pne yr Oleu Wen behind
Same, but closer too
Boulders from across Llyn Idwal with Pen yr Hegli Du behind
Boulders just visible to the left of the llyn. View of Idwal slabs and Cwm Cneifion above – an ancient hanging valley.
My dog and field assistant Topper in 1999 after he had waited for me to negotiate a cornice on the headwall of Cwm Cneifion.
Boulders with Carnedd Llewellyn behind
Boulders from the moraines of Cwm Cneifion
Most of these photos were taken in August 2017 while leading a field trip for Harvard Summer School
For further reading
Darwin, Buckland and the Welsh Ice Age, 1837 – 1842, Proceedings of the Geologists' Association 123 (2012) 649–662
r original paper
And Agassiz on the Scottish visit of 1840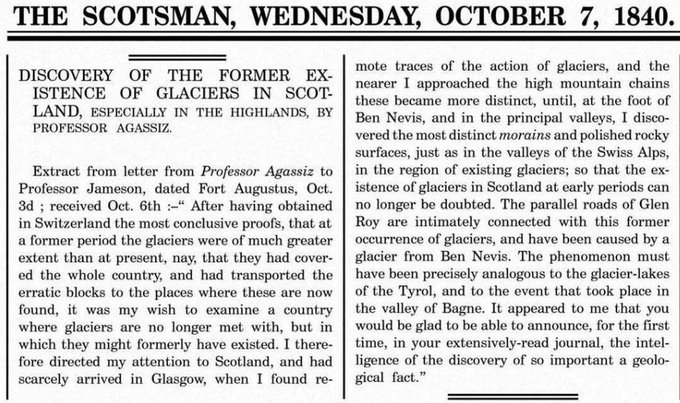 And on his visit of 1831
Darwin at Llanymynech; British Journal for the History of Science, 1996, Vol 29, pp469-78
Darwin's Dog-leg ; Archives of the History of Natural History, 1998, Vol 25, p59-73
I   coloured a map ; Archives of the History of Natural History, 2000, Vol 27,p69-79
Charles Darwin's 1831 notes of Shropshire,Archives of the History of Natural History 2002,Vol 29 , p 27-9; co-authored  with Prof.S.Herbert (University of Maryland)
Darwin's Welsh Geology, 1831,  Endeavour  Spring 2001, 25, p33-37
Available here just-before-the-beagle