For the last 18 months there have been protests at the fracking site at Preston New Road near Blackpool in Lancashire. There have been over 200 arrests with some convictions. The road is often closed and protestors happily wander across the road and at time surf on lorries. Police have been abused and there has be criminal damage.
At regular intervals there have been faith protests mostly by Quaker, Catholics and wiccans etc.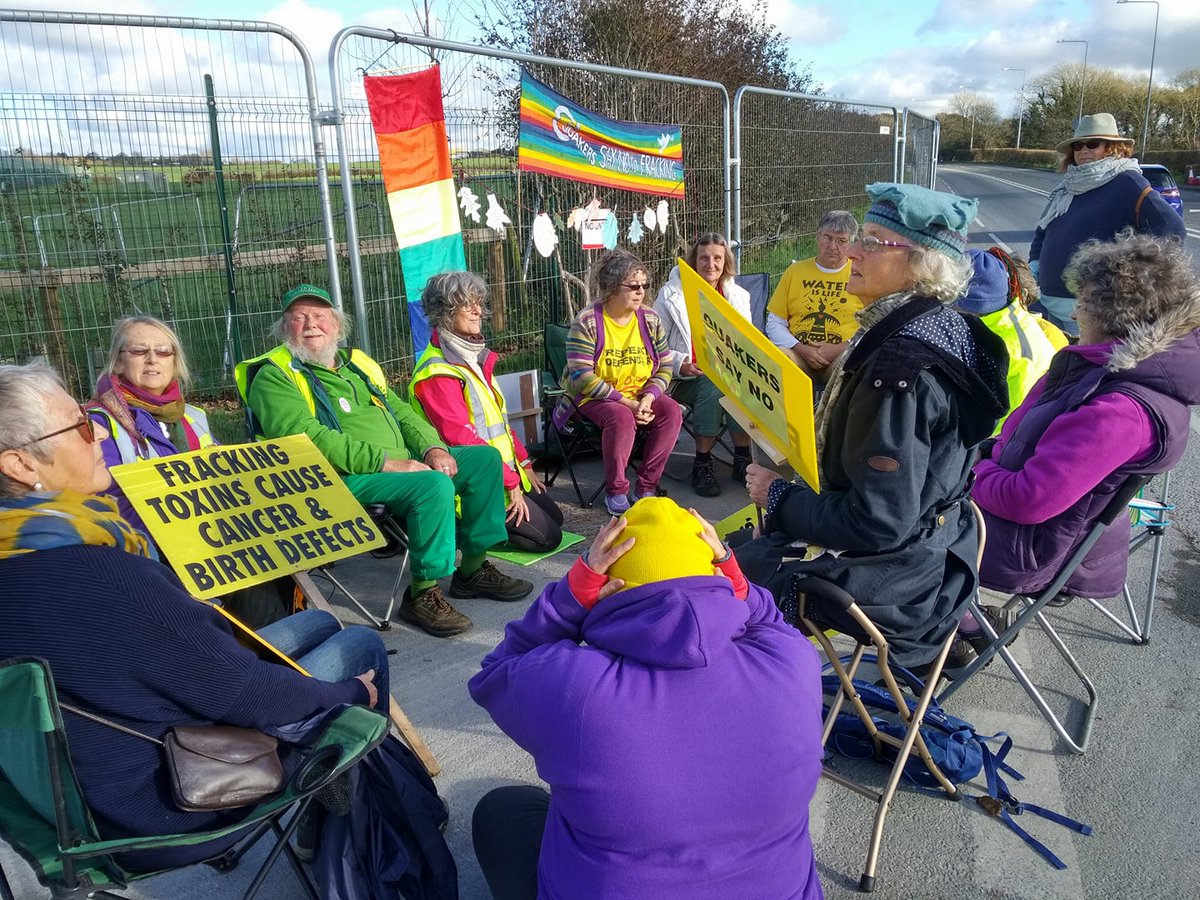 The week of 23 -28 April has been seen as a "No faith in fracking" Week, with religious activities every day.
So far the general response from activist Christians is that fracking is a very bad thing and most reports from Anglicans, Catholics, Quakers, Methodists etc argue that fracking is both wrong and dangerous.
You can read some of these on the Churches Together in Lancashire website http://www.ctlancashire.org.uk/ See under "Fracking Lancashire" and "engaging issues" and on Catholic "Faith and Justice". Sadly these are inaccurate  and my response to "The challenge of fracking" is also included, which points out how inaccurately it portrays fracking.  A major problem is that many Christian Greens stay in an echo chamber of anti-fracking greens and don't take note of experts from statutory bodies like Brit Geolical survey, PHE, Environment Agency and a host of academics working on issues connected with fracking. It is irresponsible and intellectually dishonest to do this.
The blog from "No faith in Fracking" gives their case with quotes from activists.
It is strong in emotion and very weak in fact and makes the usual anti-fracking arguments on climate change and that fracking causes health issues. They give no evidence for their assertions, but then there seems to be none apart form American reports, which though peer-reviewed, have an uncanny knack of being re-tracted for glaring errors.
It is very sad that this represents the public face of churches and faith groups and it seems that anti-fracking, with all its extremism, has high-jacked churches and other faith groups. Sadly Church leaders have not yet seen through them for their dodgy arguments masked by virtue signalling.
None of this does the cause of caring for our planet any good whatsoever. It probably alienates more that it attracts.
What we need is for our faith to inform our concern and protection of the environment and make sure our planet is in better condition when we leave it!!
I ought to add that I am an Anglican priest and before ordination worked as a mining and exploration geologist. I have long considered myself an environmentalist.
I print the blog in full and make my comments where needed.
'No Faith in Fracking' Week 23-28 April, Lancashire
Posted on April 18, 2018
https://nofaithinfracking.org/2018/04/18/no-faith-in-fracking-week-23-28-april-lancashire/
The controversial process of fracking* for shale gas could begin in the UK as early as this spring. In response, three months of community and civil society action, under the banner 'United Resistance', are being planned from April – June 2018. As part of this, Quakers from the North West are working alongside people of all faiths and spiritualities to co-create a 'No Faith in Fracking' week at the Cuadrilla fracking site at Preston New Road (PR4 3PF) near Blackpool from 23-28 April 2018.
The No Faith in Fracking Week will offer a space for people moved by faith and spirit to express in their various and distinctive ways their shared care for the Earth, their resistance to fracking and their concerns about climate change and climate justice.
This is sheer spiritual one-upmanship and assumes anyone of faith will agree with No faith in fracking. It is rather bigoted and ignores all the sincere Christians who disagree and may reckon that fracking is the best (or least bad) for the environment. Here I would include several members of Lancashire for Shale, Prof Younger of Glasgow, Dr Nick Riley – the expert on the Bowland Shales  – to name but a few. WE see that fracking is the best option for mitigating climate change and as it can provide energy throughout the world , then we support climate justice
Wendy Pattinson a Quaker from Lancaster and member of the No Faith in Fracking group said: "Fracking crosses a climate red line and we cannot allow a new source of fossil fuel to take hold in the UK. The oil coal and gas in reserves already in production and development globally is more than we can afford to burn. There is no room for any new coal, oil or gas exploration and production."[1]
She needs to explain why fracking crosses a climate red line. Without a good argument she has simply resorted to assertion and emotion. She would have done better than to rely on the Friends of the Earth whom were shown to be duplicitous in their activities in Lancashire culminating in their leaflet crossing the requirements of the Advertising Standards Agency which hit the media in Jan 2017  https://michaelroberts4004.wordpress.com/2017/01/04/friends-of-the-earth-fck-it-up/ . Here is the substance of their misinformation as found in their leaflet and spread round Lancashire https://michaelroberts4004.wordpress.com/2015/10/14/dont-let-fracking-destroy-all-of-this/  

She needs a reasoned approach rather than virtue signalling
Dot Kelk, a Catholic from Preston, said: "Pope Francis in his Encyclical Laudato Si puts it very clearly: 'I urgently appeal..for a new dialogue about how we are shaping the future of our planet. We need a conversation which includes everyone since the environmental challenge we are undergoing and its human roots concern and affect us all'.
In his Encyclical the Pope said nothing about fracking and spoke in general terms. He cannot be used to support opposition to fracking. What he said and rightly so, is that we MUST care for the environment and also our use of fossil fuels.
Clíodhna Mulhern, a Quaker from Lancaster, said " Hydraulic fracturing poses significant, proven risk to the health of local people, it undermines local communities, and contaminates air, water and soil – the very building blocks of life. As people of faith and spirit it is our privilege and our duty to protect life on earth and if that means standing at Cuadrilla's gates then that is where we shall be. "
There are several doubtful statements here. What is the evidence of "proven risk to health"? Medact 1 failed to provide any and Medact2 stated that there was no proof. Yes, local communities have been undermined – by anti-fracking groups and NGOs like Greenpeace and Friends of the Earth. What is the evidence that fracking "contaminates air , water and soil"? Apart from the odd spillage – as happens in any industry including farming – nothing. And the final sentence shows are rather superior attitude, claiming that they , and only they, care for the earth. That is offensive and bigoted.
Chayley Collis, a Quaker from Huddersfield, said: "Fracking is clearly incompatible with the global Paris climate commitment. The UK Government itself has also recently acknowledged that to have a reasonable chance of keeping global temperature rise below 2 degrees we need to leave up to 75% of existing reserves of fossil fuels in the ground" [2]
This was not claimed in the Paris Climate commitment and is ONLY what some environmentalists claim. She needs to read the govt response more precisely. It said "In 2011 the IPCC estimated the amount of carbon within existing proven reserves of coal, oil and gas to be 1,053 billion tonnes. Based on these figures, between 70-75 percent of known fossil fuels would have to be left unused in order to have a 50% chance of limiting global temperature rise to below 2°C." That answer refers to ALL fossil fuel reserves and not just gas. It does mean it is best to leave the worst fuel  -Coal- in the ground, but it does not say fracking should not occur. This is an emotive, but vacuous, argument
In February 2017 Quakers in Britain issued a statement opposing fracking in the UK Fracking.
This statement https://www.quaker.org.uk/our-work/sustainability/fracking is weak in content but high in activism and gives no fundamental reason to oppose fracking
Hilary Whitehead, a Quaker and one of the organisers of the No Faith in Fracking week, said: "Care for the vulnerable in society, such as those people impacted by climate change, is a theme that unites all faith traditions, as is care for the Earth, our shared home. The No Faith In Fracking Week will bring together a range of faiths and spiritual traditions in upholding the sacredness of Earth. These will include Catholic, Christian, Buddhist, Green Spirit, Wiccan, Quaker and Druid and will involve prayers, rituals, ceremonies, meditations, silent vigils and liturgies at the roadside entrance to Cuadrilla's fracking site."
If she really cared for the vulnerable in society she would not put the poor at risk over energy. Again appeals to the sacredness of the earth  means she claims the spiritual high ground and other Christians who dare to disagree are negligent in following their faith teaching
Events planned for the week include:
Tibetan Buddhist chanting and guided meditation,
Christian Celtic Care of Creation
Green Spirit readings from Thomas Berry and Matthew Fox
Earth care rituals
Catholic liturgy
Talks and workshops on the effects of climate change
Walking meditation led by the Community of Interbeing.
Meditations led by Dharma Action Network for Climate Engagement (DANCE)
'Earth Agape' Liturgy led by Christian Climate Action and Faith & Resistance Network
Quaker-led silent vigils
Wiccan Wellbeing Celebration Day
Earth and spirit poetry and readings
Songs of Hope
A link to the event diary is here: https://nofaithinfracking.org/events/
The co-ordinators of the week are inviting people of all faiths and spiritualities and none to join the peaceful gatherings at any time during the week. More information:
Notes for the Editor
Press contact: 0798 3355955
A film, with interviews from members and supporters of the No Faith in Fracking group, from a range of faith traditions, is available to view here: https://vimeo.com/255967037
1. 'The Sky's Limit', Oil Change International, 2016 and 'Tackling climate change: Keeping coal , oil and gas in the ground' Friends of the Earth briefing, July 2017
2. Fossil Fuels: Written question: https://www.parliament.uk/business/publications/written-questions-answers-statements/written-question/Commons/2016-12-09/56871
3. Faith Against Fracking https://vimeo.com/140180741
Film about US faith groups witness against the fracking industry
* Hydraulic fracturing, or fracking, is a technique designed to recover gas and oil from shale rock.
SHARE THIS:
hh;;