The month of September has been designated the Season of creation which is a magnificent idea as so often God as Creator and his Creation has been sidelined, almost to the point that the Gospel is just about Post-mortem salvation, with only a narrow concern on personal ethics. Or the more "liberal" who have a social concern but are indifferent to the environment and thus Creation.
In my church we are having Sept 2 to Oct 14 as our Season of Creation as it is bounded by Harvest Services and a Pet Service. That gives great opportunity to consider a variety of themes on God as creator, human responsibility to Creation, whether plants , animals, minerals,water and the need to ensure that there is enough for all.
There is much to consider apart from the Big bad wolf of fossil fuels, which at times become THE only issue.
As part of the Season of Creation Operation Noah  has launched a campaign to encourage parishes and local churches to divest from fossil fuels.
This follows the partial divestment by the General Synod of the Church of England in July 2018. Operation Noah did not thinkt hey went far enough
This is the blog of the new campaign  http://brightnow.org.uk/action/divest-your-church-season-of-creation/
As our scorching summer gradually begins to fade into autumn, the Bright Now campaign is inviting local churches to support the movement for fossil free Churches. Could you join us in this next stage of the campaign? ………………
Source: Divest your church this Season of Creation: 1 September to 4 October 2018 – Bright Now
Their aim is to encourage all to divest totally from fossil fuels as soon as possible. In their reports Bright Now of 2013 http://brightnow.org.uk/wp-content/uploads/2013/08/Bright-Now-Report.pdf and Fossil free Churches: Accelerating the transition to a brighter, cleaner future on June 2018 http://brightnow.org.uk/wp-content/uploads/2018/06/Bright-Now-Transition-Report-2018-web.pdf they give very clear and forceful arguments which divestment should be done immediately, with a large number of references.
If these two reports are the only things you read, then you will conclude that for the sake of the planet and humanity, immediate divestment is the only ethical action. Here they are in line with groups like Friends of the Earth, Greenpeace, McKibben's 350.org and many fossil fuel campaigns.
However I consider the whole Operation Noah  and Bright Now campaigns and reports to be very inadequate and misleading, and thus fatally flawed.
Major Issues simply disregarded
First there are aspects about fossil fuels and energy which they simply ignore.
Fossil fuels are more than fuel
Renewables will not be able to replace fossil fuels for decades
Fossil fuels vary in dirtiness
Now to consider each in turn.
Fossil fuels are more than fuel
Fossil fuels are used for far more than providing energy as this picture shows.
Fossil fuels are used for Medicines, Cosmetics, Plastics, synthetic rubber, cleaning products, and asphalt. They could have included artificial fertilisers without which many in our world would starve and the making of essential chemicals like chlorine which means that our water is safe to drink.
  This gives some of the things made just from petroleum. Try to eliminate all these from your daily life!!
In fact about a third of each barrel of oil produced is , on average, not used for fuel. As for gas, some is used  to make plastics, fertilisers and other things.
Yes, I know, many plastic things are awful, especially the excessive use of single use plastic and it is great that these are campaigned against.
For those who do not have perfect health (or even eye-sight) we depend on plastic for so many things medical.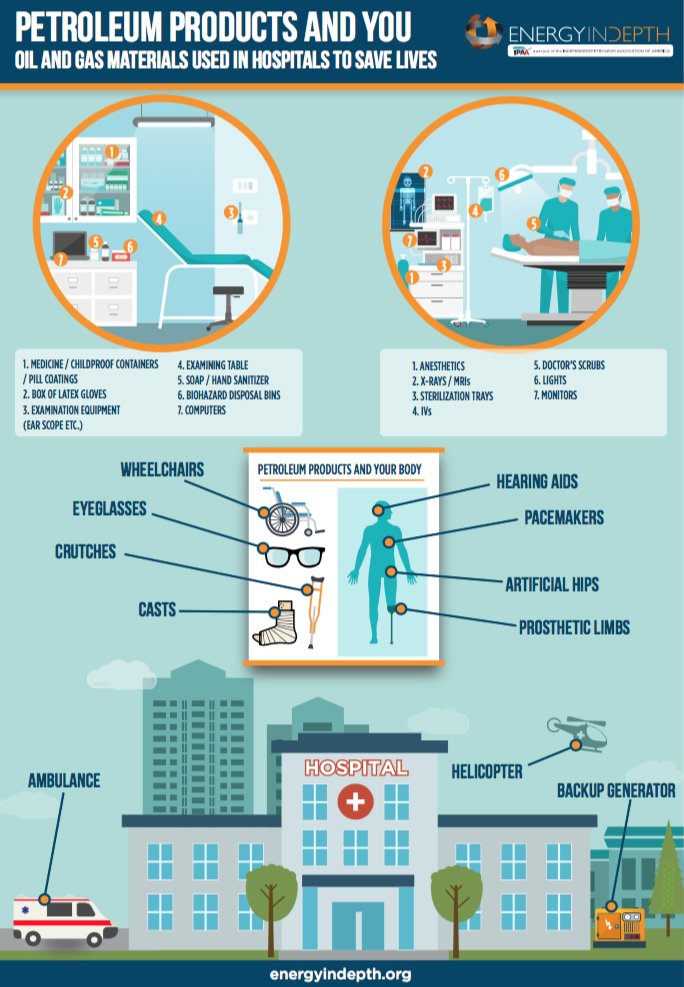 Perhaps  readers could get up one morning and vow to use nothing dependent or made from oil, gas or coal.  First, you will have no heat, Secondly no water, thirdly no electricity, fourthly, no clothes from artificial fibres, fifthly you can't take your medicines, sixthly you can put your glasses on etc etc.
Renewables will not be able to replace fossil fuels for decades
It would be fantastic to get rid of all fossil fuels by the end of the year. That will not happen and cannot happen for several reasons.
Renewables are dependent on energy storage to tide one over when wind and solar produce no or little power. Batteries or other storage systems are simply not in place and hardly on the horizon.
Even if they were in place ramping up would take decades and not years.
Often we are told that renewables produced 30% of our power this year. This is true, but often no power is produced as on a cold windless winter's night. Further electricity is only a third or so of our energy usage – industry, heat, trans[port and when that is taken into consideration renewables produce less than 10% of Britains's energy.
This shows how energy is sourced on a world perspective
This earlier chart for 2015 shows how small the renewable contribution is. Note the question
This shows the change in the mix for UK energy this decade. The largest changes have been the decline of coal and rise of gas.
And a reminder that energy transitions take decades, not years.
I rest my case that divestment from fossil fuels is anything but premature and also folly  resulting in worldwide suffering. In fact I consider it a poor form of virtue signalling and is better for those divesting than our fellow humans who struggle with insufficient energy as well as everything else. I include those  in fuel poverty in our towns and cities.
Fossil fuels vary in dirtiness
There is no doubt that fossil fuels are dirty. Some of us remember the London pea-soupers. I think the last was early 1963 and the soup came within a hundred yards of our house in Surrey. I won't forget the petrochemical smog around Chamonix when we were walking by a glacier, or the pall of coal smoke hovering over Llanrhaidr-ym-Mochnant while climbing the Berwyns in winter. Far worse is an open fire heating a hovel, but that is preferable to hypothermia.
Of all fossil fuels coal is by far the worst and emits more CO2 but also particulates, ash and radioactive particles. We know of diesel. The cleanest is gas and all scientific studies conclude that gas is by far and away the cleanest fossil fuel, except for one researcher – Robert Howarth. (However, the 2013 Bright Now report accepts Howarth's outlying ideas due to relying on questionable secondary sources. But they did acknowledge that the switch to gas has reduced emissions.)
From this, it is a pity that Operation Noah did not prioritise getting rid of coal.
Having considered their serious omissions I will now consider some
Bad arguments
Discussed in my blog https://michaelroberts4004.wordpress.com/2018/07/04/the-church-of-england-and-divestment-july-2018/
The ON reports very much follow a leave it in the ground stance and say
5. The vast majority of known fossil fuel reserves must remain in the ground if we are to have any chance of meeting the Paris Agreement targets. The reserves in currently operating oil and gas fields alone would take the world beyond 1.5 degrees Celsius of warming.
This is in two parts. The first is a sweeping statement on the Paris Agreement and fails to make any distinction between the 3 fossil fuels. The fact that emissions of CHG from coal are vastly greater than oil, which is turn is greater than gas is simply ignored as is the proportion of each fuel which should be left in the ground. Also ignored is the wide-spread rejection of coal. This seems to be a rewrite of the Paris agreement and rather alters the meaning. Further no one has put it that baldly. The original source on keeping fossil fuels in the ground comes from a paper in Nature from University College London researchers. They distinguished between the three fossil fuels
https://www.sciencedaily.com/releases/2015/01/150107131401.htm
A third of oil reserves, half of gas reserves and over 80% of current coal reserves globally should remain in the ground and not be used before 2050 if global warming is to stay below the 2°C target agreed by policy makers, according to new research by the UCL Institute for Sustainable Resources.

This puts things in a very different light both on the timeframe and which fuels are to be left in the ground. In other words, coal needs to be left there but oil and gas will be used to 2050 – and will have to be simply to keep the lights on. There is clear to anyone who understand than energy transitions take DECADE not YEARS.
This attitude is often accompanied with the mantra keepitintheground which is great for chanting but does not solves problems of energy or emissions.
As serious is the lop-sided bias of Operation Noah reports, as I discuss in my blog referred to above. The authors seem to ignore anything apart from the most strident keepitintheground position, preferring the one-sided approaches of  the most strident greens and ignoring the more moderate (and in my view more constructive ones) of Lord Deben, Sir David Mackay, Dieter Helm and various others. It is wrong not to mention and consider them as it prevents the average churchmember and minister from considering a variety of viewpoints which are all concerned with doing the best for the planet and to fulfill the Paris agreement.
At best this is a case of shoddy argument, but is very misleading and prevents an honest discussion as other well-evidenced arguments are simply not presented.
Some may consider it to be duplicitous and slightly less than honest.
What has happened is that the churches' witness for the environment , and particularly fossil fuels, has been hijacked by a group who are prepared to give a highly biased and often inaccurate argument for divestment. I also note that some members of Operation Noah are prepared to break the law to make their point.
It is very difficult for someone, even if they have some technical skills, to counter such strident arguments which are buttressed by claims to be ethical.
It is a pity that there are insufficient people in the churches, who have the technical expertise to present a more reasonable argument rather than virtue signalling.
I rest my case and there is much more i could have said………….