1831 was an eventful year for Charles Darwin. In the first half of the year he graduated from Cambridge with an adequate degree. He had plans for the future; first an expedition to Teneriffe and then a life as a clergyman, when he'd have time for plenty of natural history. Had this happened he would have been one of the last of people without much Christian conviction to be ordained. Even Darwin noticed that clergy were more devout when he returned from the Beagle voyage in 1835.
Many make much of the fact that his degree was in theology and philosophy rather than science. But then you couldn't do a degree in science, but Darwin did the next best thing, or was it the best thing. For much of his time at Cambridge he attached himself to Rev John Henslow, who was then prfessor of Botany. He had been professor of mineralogy and in the early 1820s produced memoirs on the geology of the Isle of Man and Anglesey. Have been round Anglesey with Henslow's map and memoir I found found it an incredible piece of geology.
The second half of the year was so different. He had returned to Shrewsbury and tried to teach himself geology with limited success. For the most of August he was in North Wales with Adam Sedgwick as be begand his pioneering work on the Cambrian. After trekking from Capel Curig to Barmouth, he went home to find a letter inviting him on the Beagle.  He managed to get his uncle – a Wedgwood – to persiade his father  and on 27th December set sail from Plymouth.
Things were never the same again.
As you read this you will see how well qualified Darwin was to go on the Beagle. He was already recognised as one of the best of the young naturalists.
For the future Dawin the scientist, or rather Darwin the geologist, July and August were the most crucial. During July he tried to carry on the geology he'd learnt from Henslow and Sedgwick with limited success. He visted Llanymynech quarry and tried to produced a geological map of his home ares.
Then Sedgwick arrived in early August to stay at the Mount. From there Darwin joined Sedgwick on two day trips from Shrewsbury and on 6th August the set of for Llangollen in Sedgwick's gig. Sedgwick was trying to work out the strata below the Old Red Sandstone (Devonian) and thus gradually sorting it out going down the succession. Ironically he got within 2 miles of this on Long Mountain near Shrewsbury, but turned back – possibly because the horse was knackered! It is a long pull-up and one many cyclists today would avoind or regard it as a hard climb.
As there is no Devonian in North Wales from Llangollen to the Great Orme, Sedgwick got nowhere, beyond teaching Darwin geology. A trip to Anglesey didn't help and so Darwin left him to travel home to go shooting. As it was Sedgwick started to work around Llanberis and he had not stratigraphic markers to work on. But that is another story.
To go back to early July, Darwin received a parcel of a clinometer, and hammer and so started measuring angles all round the house. To test out his skills he rode the 15 miles to Llanymynech Hill,
which I describe in this paper along with Cwm Idwal
Darwin at Llanymynech
Also that July he took some local maps of Shropshire by John Baugh, traced then tried to make a geological map.
Both south of Shrewsbury and at Ness he found New Red Sandstone – Permotrias.
I ..coloured a map 
A paper on Darwin's attempts of geological mapping around Shrewsbury, published in Archives of natural History  1999
These are two papers one co-authored with Sandra Herbert.
and so we come to the main partof his geological journeys, this time with Sedgwick.
On 2nd August 1831 Sedgwick arrived at the mount in his gig. Dr Darwin thought him a hypochondriac. The next two days were spent looking for Old Red sandstone to the east of Shrewsbury and on the 6th Sedgwick and Darwin set off to north wales as described in this paper published in Endeavour in 2000.
During his visit to Anglesey Sedgwick and Darwin found some serpentinite. He later identified the same rock on St Paul's Rocks, a tiny island in the Atlantic  early on while on the Beagle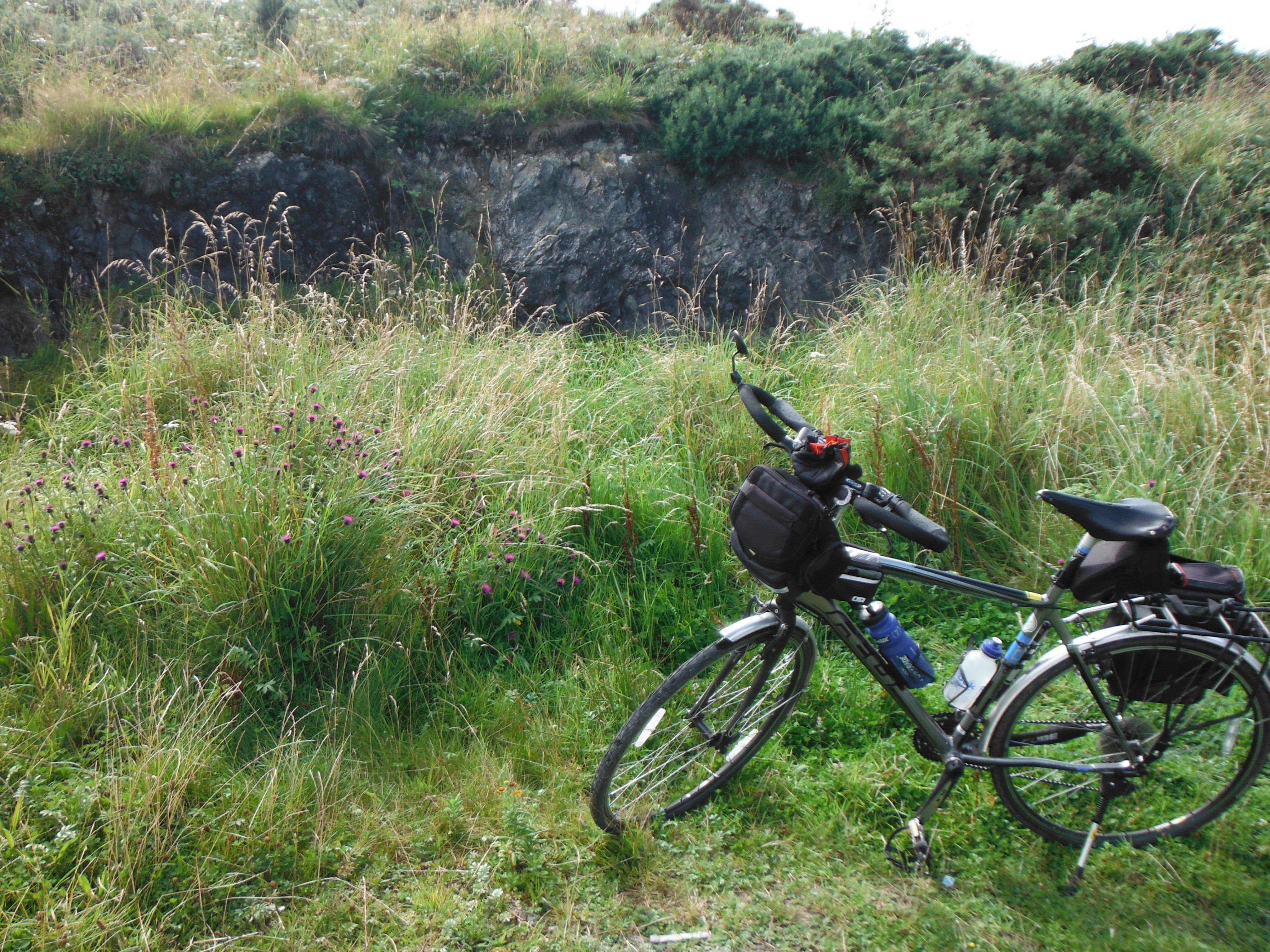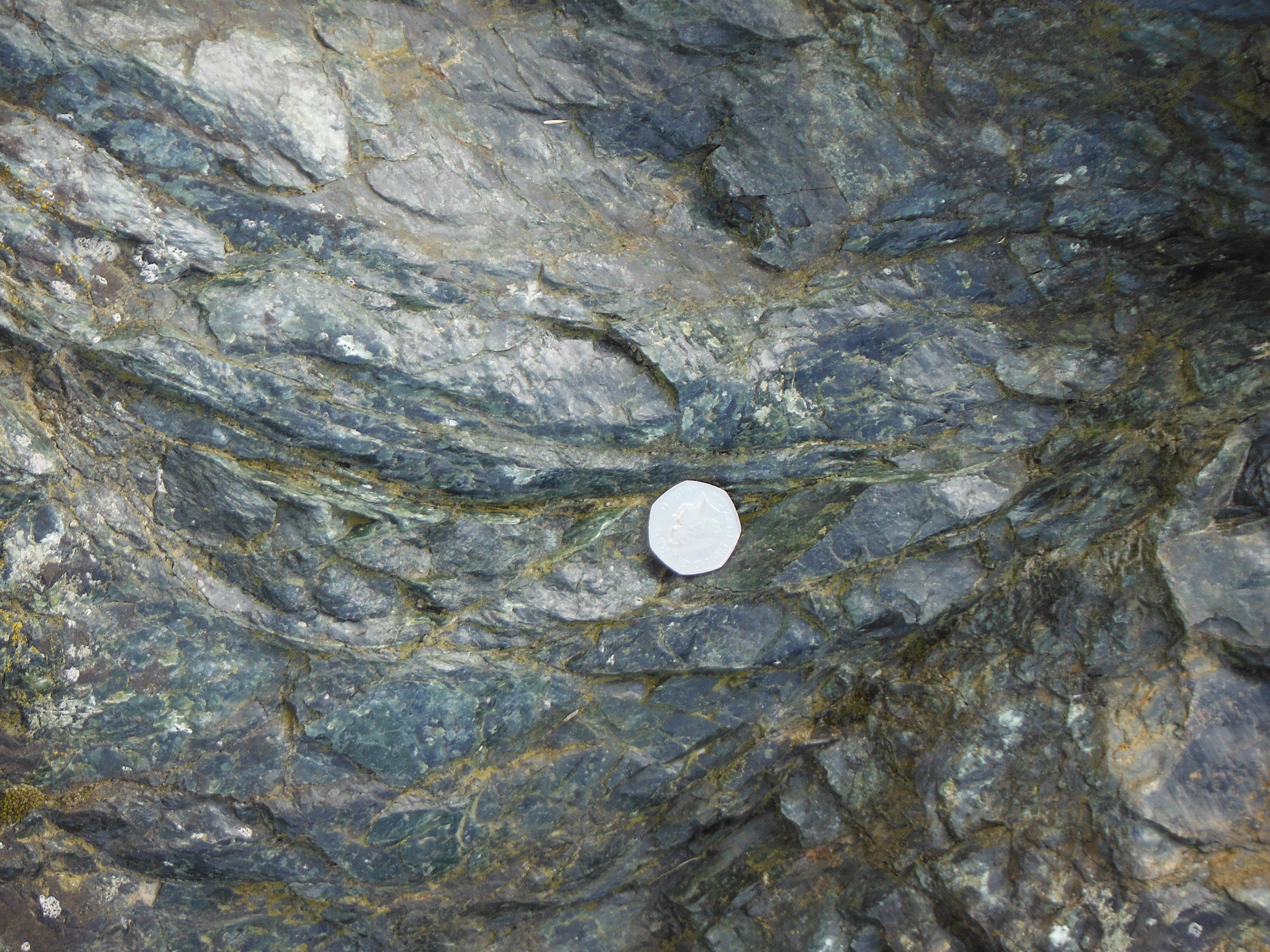 Open and read
Darwin wanted to get home for some shooting and left Sedgwick near Bangor.After Darwin left Sedgwick he went to Cwm Idwal ,
And Sedgwick's sketch of Devil's Kitchen drawn a few weeks later.
then onto Plas y Brenin at Capel Curig, climbed Moel siabod and walked south to Barmouth
Darwin's route as a mountain expedition, written for a mountain magazine
And now more scholarly!!
Darwin never took a compass bearing from Capel Curig to Barmouth. I don't recommend you try it!! It would cross incredibly rough pathless ground. However I am willing to follow anyone who wishes to try it – especially if they are not used to british hills.  My sadism is coming out here.
As it was he went in a roundabout route and you can visit the localities he described.
Darwin's Dogleg
This from Archives of Natural History describes the route Darwin took from Capel Curig to Barmouth
Carreg y Fran
And so after a few days with his mates he went home and found the famous letter!
Six months later he carried out his first geology on the voyage at Cape Verde and here I refer to Paul Pearson.
'Marks of extreme violence': Charles Darwin's geological observations at St Jago (São Tiago), Cape Verde islands
Abstract
The first stop on Charles Darwin's famous voyage around the world in HMS Beagle was at Porto Praya (Praia), the principal town on the island of St Jago (São Tiago) in the Cape Verde archipelago. From 16 January to 8 February 1832, Darwin enjoyed his first substantive opportunity to study the natural history of an exotic place. Darwin himself regarded this occasion as a significant turning point in his life because, according to his autobiography, it was here that he decided to research and publish a book on the geology of the places visited on the voyage. He also recalled that it was here, the very first port call, that convinced him of the 'wonderful superiority' of Charles Lyell's uniformitarian geology over the doctrine of successive cataclysms that he had been taught in England. Later commentators have generally accepted this account, which is significant for understanding the intellectual background to the Origin of Species, at face value. In this paper we reconstruct some of Darwin's observations at St Jago based on his contemporaneous notes and diary, and in the light of our own visit made in January 2002. We find little evidence to substantiate the claim that he interpreted the geology in Lyellian terms at the time. Instead, he formulated a theory involving a great cataclysm to explain the dramatic scenery in the island's interior. He speculated that a torrent of water had carved the main valleys of the island, leaving deposits of diluvium in their beds. It is indisputable that Darwin came to embrace gradualist thinking enthusiastically during the voyage. Some of his observations made on St Jago, especially relating to uplift of the coast, were instrumental in this change of view, but the conversion was gradual, not sudden. His later published works make no mention of his original catastrophist interpretations.
© The Geological Society of London 2007
https://sp.lyellcollection.org/content/287/1/239/tab-figures-data
And so Darwin went round the world studying the geology.
His last geological trip was to look for glaciation in Shropshire and Wales culminating in Snowdonia in 1842 as this paper on William buckland in 1841 and Darwin in 1842 shows.