Is this really Mary Anning at Lyme Regis? Or someone else somewhere else?
It is one of the most popular pictures of Mary Anning and even used on a suggested draft of a £50 note.
The most famous fossil collector was Mary Anning of Lyme Regis in Dorset. She spent years collecting fossils and selling them on. This is one of the most popular pictures of her at work;
It was used on the front cover of a biography and on The Geological Curator in 1985
In the next few months the film Ammonite on the life of the great fossil-collector Mary Anning will be premiered in the USA and the UK. Mary lived from 1799 to 1847 in the seaside town of Lyme Regis and unearthed may significant fossils on the Jurassic coast. She provided specimens for geologists like Conybeare, Buckland and de la Beche.
Duria Antiquior – A more Ancient Dorset is a watercolour painted in 1830 by the geologist Henry De la Beche based on fossils found by Mary Anning
(compare this with Mary anning picture – is it the same style?)
By the time she was died she was famous and here is a posthumous portrait.
Posthumous painting of Anning by B. J. Donne from 1847, based on the 1842 portrait at the head of this article, showing her pointing at an ammonite
Now back to the oft-posted picture of Mary geologising, alleged to be painted by Sir Henry de la Beche, who was more than capable as an artist. However he should be expunged from history as a former slave-owner.
Here she is, in shorter skirts, standing on a rock with her hammer ready with Golden Cap in the background.
Just a minute!
Is it really Golden Cap? Golden Cap is only 171 metres high (560 ft if you prefer) and with a flat top to play cricket on as I had to on family holidays.
And is it Mary Anning?
To me, as I am familiar with Lyme Regis, having been there on geology field trips and three summer holidays as a child, it just doesn't look right and I am sure de la Beche was a better artist and would have drawn Golden Cap more accurately right down to the horizontal strata.
Looking at it, I am minded of one of favourite mountain ridges in Snowdonia, the Nantlle Ridge which starts at Rhyd Du  and works its way along the ridge to Craig Cwm Silyn. It is an exposed route as to the north cliffs drop into a series of glacial cwms. The first time I traversed that ridge I tore my brand-new anorak.
Here is the east end of the Nantlle Ridge from Rhyd Ddu with Llyn y Gader in the foreground.
The peak of Y Garn (653metres) on the right with steep (glaciated?) nose and a glacial cwm behind. To climb it the route takes you up the shoulder on the right of the photo. At the bottom was a scruffy sign telling the English to Far Cough. From the first top you move to the left to Mynydd Drys y Coed (695m) and then along the narrow ridge to Craig Cwm Silyn, the high point at 734 metres. From there I normally retraced my steps beck to Rhyd Ddu. The north side of the ridge is precipitous as there are several northerly orientated glacial cwms.
The engineer, geologist Thomas Sopwith drew a sketch of Pen y Gader in October 1841, during a visit to North Wales with the Rev William Buckland  to see if there had been glaciation in Wales as well as in Scotland.
It's the same as my photo with a roche moutonee in the foreground.
Now for a bit of history. In 1838 William Buckland went to visit Louis Agassiz in Switzerland. Agassiz was full of ice as he had just publicised that the glaciers in Switzerland had been far more extensive and that there had been an Ice Age in the none to distant past. He claimed ice had spread right up to the Jura mountains , where a glacier had dumped the erratic block, Pierre a Bot, high above Neuchatel – and scratched some rocks in the process. On a field trip we also found many glacial grooves on exposed rocks. Buckland took a lot of convincing but in the end Agassiz froze him out, and Buckland became a convert.
In 1840 Agassiz came to Britain and went up to Scotland with Buckland and Lyell. Near Lancaster, where I live, they found their first evidence of an former ice age – drumlins  -and I used to live on one. They then went to Glen Roy with its famous and baffling parallel roads. Two years earlier Darwin studied them and concluding they were ancient raised beaches from the lowering of sea level from 1200 ft. Agassiz disagreed and said there were from an ancient glacial lake publicising it in the Scotsman. Darwin had made a "gigantic blunder", as he later admitted.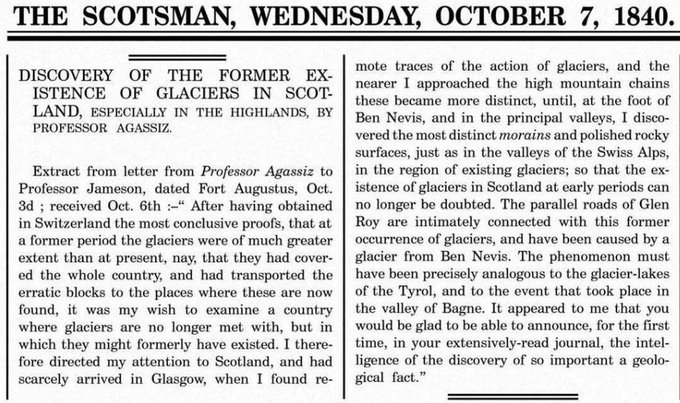 Next year, the ailing John Eddowes Bowman toured North Wales to find evidence and claimed to find nothing. In October Tom Sopwith met up with Buckland near Chester and explored the area in one of the worst Octobers ever. They began at the meres at Ellesmere and reckoned to identify rocks from both Scotland and Wales, concluding that ice sheets met there. They were absolutely correct and I enjoyed doing the same. From there they went up the Dee valley to Bala and then past Arenig Fawr (2804ft) where they did not notice the result of glaciation.
After that they stayed at the coaching in  at Pentrefoelas and continued along the new road (A5) to Snowdonia, finding evidence of glaciation en route. They stayed at Llanrwst. And went up to Ogwen. From Llanrwst they went to Pen y Pass and in between the showers worked out the glaciation
This map shows the glacial troughs Buckland and Sopwith identified.
Llyn y Gader is the smallest of the three lakes just to the west of Snowdon. Note 2 glacial cwms are marked.
For my paper on the work of Bowman, Buckland and Darwin on Welsh Ice see
In a few days of torrential rain they delineated all the major glacial troughs in Snowdonia. It was brilliant work. After dropping down to Beddgelert, they ended up at Rhyd Ddu and noted that glaciers seemed to be going in three directions. As well as being an engineer and geologist, he also produced excellent models showing geological structures.
For his brilliant models go to Facebook https://www.facebook.com/ThomasSopwithAppreciationSociety
This Thomas Sopwith was the grandfather of Sir Thomas Sopwith, who designed the Sopwith Camel, a WWI fighter plane. The latter's grandson, also Thomas, lived near where we lived in Chirk. Sopwith was a fine artist at both sketching and painting. His most famous was of William Buckland dressed for glacier work. It is both faithful, but a bit of a send-up.
The wording is entertaining. It is of Buckland at the Waterloo Bridge in Betws y Coed. I once hobbled over that bridge, having twisted my ankle trying to find one of Buckland's sites.
This was also the basis of a painting, a poor copy by an APF. Who was it? Sopwith would say it was not up to scratch!
https://blog.geolsoc.org.uk/2014/08/21/a-new-version-of-sopwiths-buckland-portrait/
Now another sketch at Beddgelert by Sopwith on 16th October 1841
Here's Buckland in the Pass of Aberglaslyn in the same garb. He stayed in Beddgelert but the record of his stay is "missing"
When you compare these with the "Mary Anning" picture, you will note the same clothes, shoes and hat! And then there are also the glacial striae on the roche moutonee, which is not possible for Lyme Regis as ice never reached Dorset during the Ice Ages. Further the painting is in the style of Sopwith and not the exquisite watercolours of de la Beche.
I think one can only draw one conclusion. This picture is not of Mary Anning, nor of Lyme Regis, nor by de la Beche, but is of William Buckland in Snowdonia and the original by Thomas Sopwith. (The hill on the right is Mynydd Cigwyn just above Nantlle.) Buckland's cloak, much needed that October, does look a bit like a shorter skirt adding to the confusion.  It also warns against jumping to historical conclusions. Tom Sharpe, who has an imminent biography on Mary Anning, has also made the same points in a HOGG newsletter https://historyofgeologygroup.co.uk/hogg-newsletter/hogg-newsletter-61/
Some years ago I took the part of Sedgwick in a planned HBS documentary of evolution. But it got left out.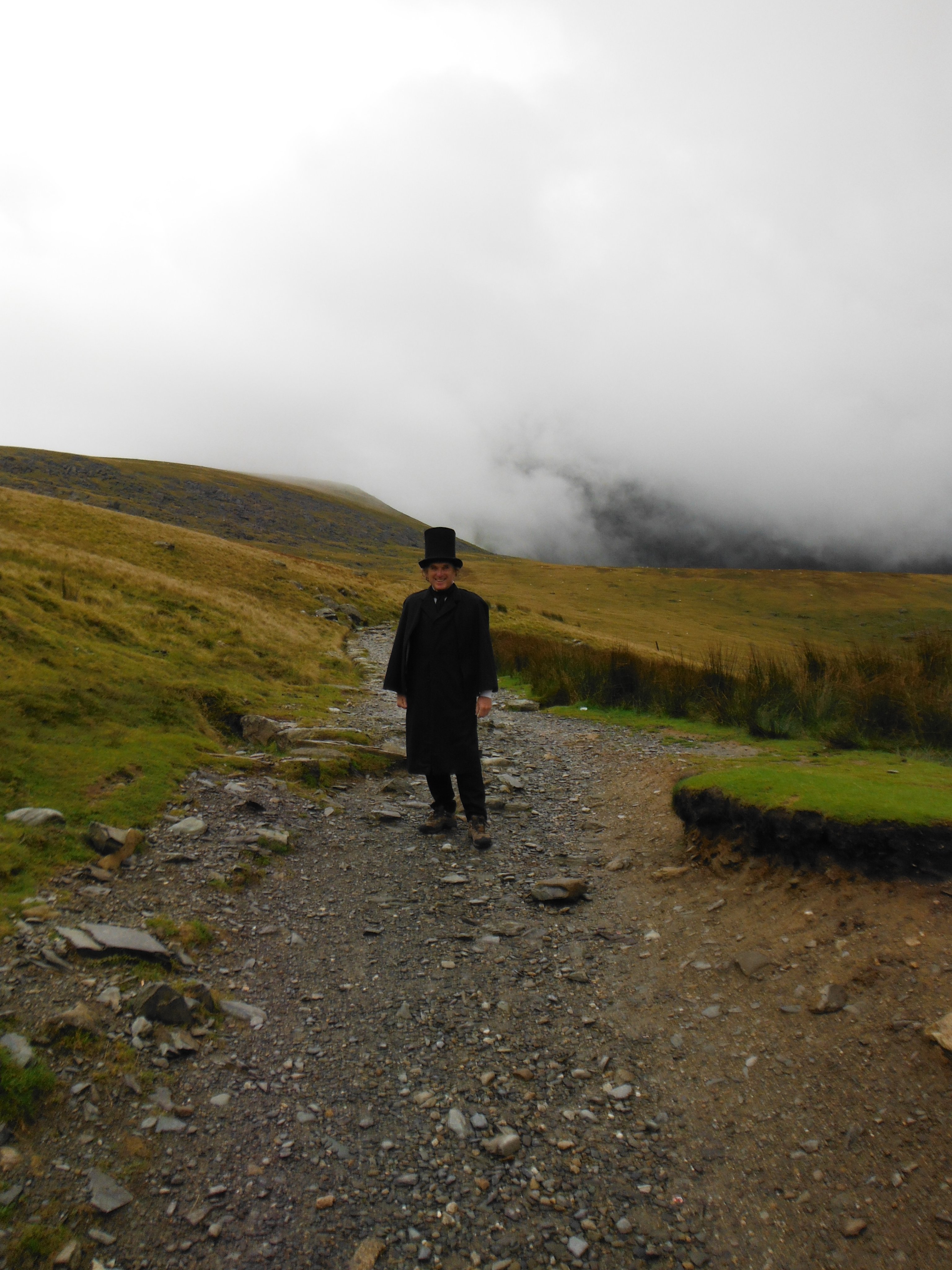 Here's a photo of a woman in 1830s working class clothes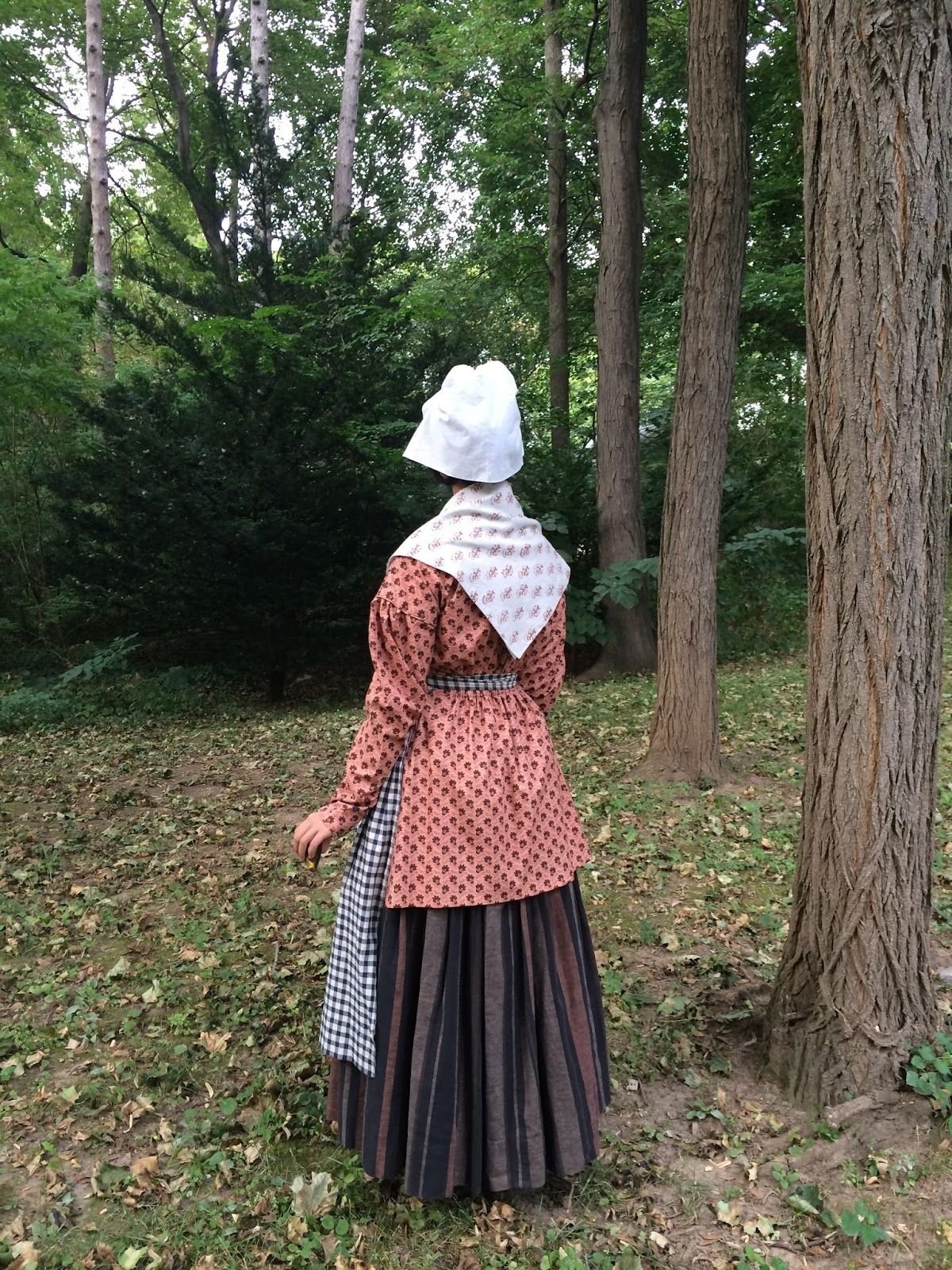 Who's more like the person in the picture?
This annotated picture should make it clear. Go and visit the place and prove me wrong!
Now here is a picture of Buckland by de la Beche on Buckland's favourite topic- coprolite. A mortarboard and not a top hat!  Also note what each animal is doing! What is between Buckland's legs?
Maybe I've done what de la Beche did to Lyell's ideas on uniformitarianism in 1831, when he reckoned that the little volumes of water couldn't do what Lyell claimed in his uniformitarianism. Here Buckland's son, Frank, is recruited to show why Lyell was wrong. I reckon this is above Idwal cottage looking down the Nant Francon, but Martin Rudwick is sure it is in the Auvergne. Take your pick, but I re-enacted it on a field trip in 2009