Surely the Church of England is far too liberal to think the earth is only 6000 years old.
Most would respond to that question by saying, "don't be so daft!" After all in many ways the CofE is somewhat liberal both in belief and ethics. The church has many who have held fast to evolution; Gore, Temple and others in the 19th century, most theologians in the 20th century, and more recently theologians with scientific training – notably Arthur Peacocke, John Polkinghorne and Alister McGrath and many other lesser fry, like myself! If anything is the default position of the Church of England, it is one which accepts a 4.56 billion year old earth and life which has been evolving for the last 4 billion years. But against that about 5% vicars are Creationist. and lots of churchmembers are a bit confused. and not a few clergy!
So what is this article doing as part of the Church of England's Lent Live?
It takes the NRSV translation of Romans 8 vs 19, 22-23, with an odd omission of verses 20 to 21, and then comments on the passage, claiming that 
" the whole creation has somehow been infected, and fallen under the influence of darkness."
Now, that is just how Creationists argue from their ideas of a 6000 year old earth and no evolution, as they reckon when Adam bit the apple, God put a Curse on Creation, making it Fallen and thus death, illness and earthquakes began. 
Consider the image and brief article. The image just gives the biblical text but the article reflects on it.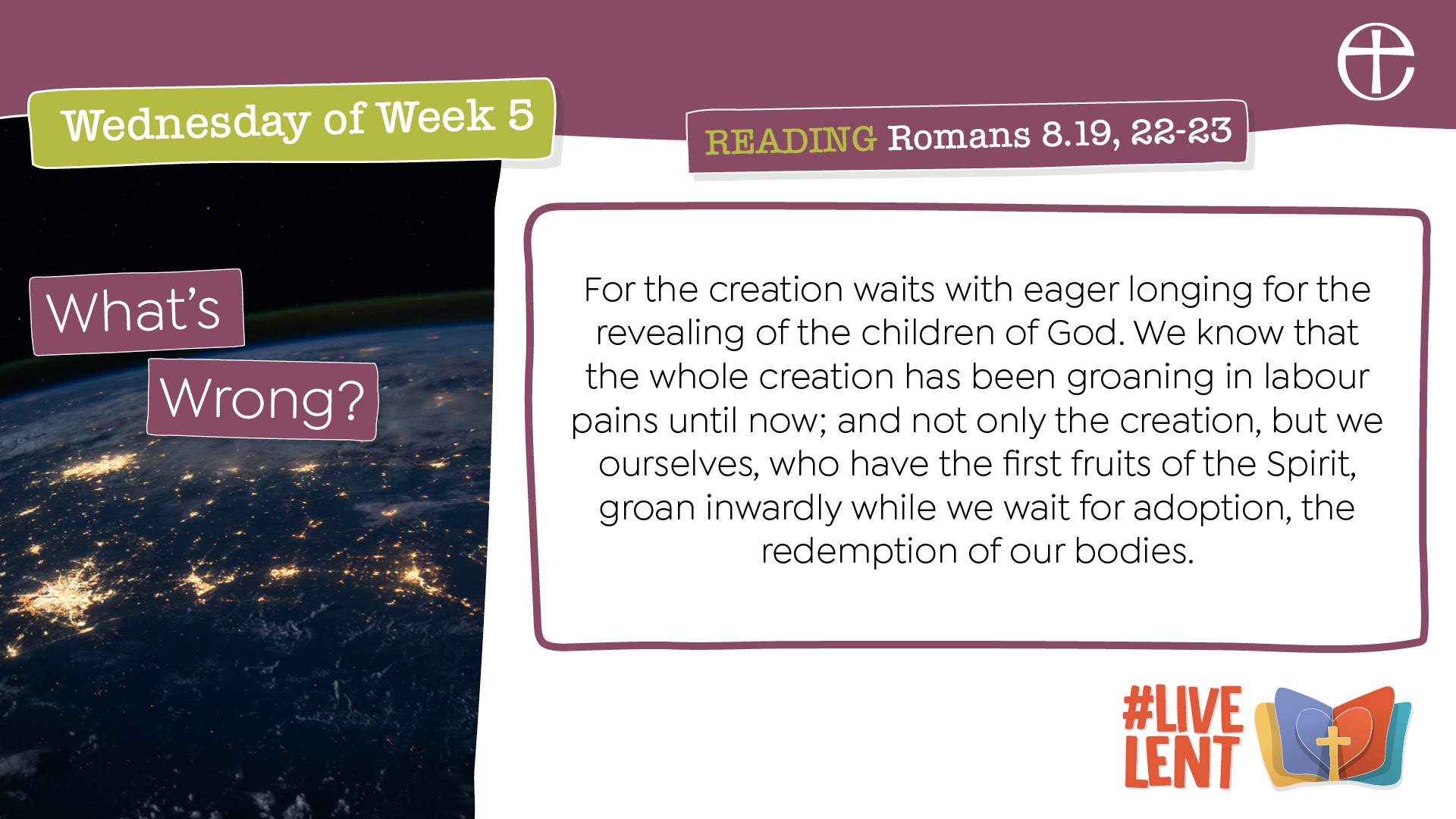 And so the reflection;
Bible reading – Romans 8.19, 22-23 (NRSV Anglicized Edition)

For the creation waits with eager longing for the revealing of the children of God; We know that the whole creation has been groaning in labour pains until now; and not only the creation, but we ourselves, who have the first fruits of the Spirit, groan inwardly while we wait for adoption, the redemption of our bodies.

Reflection

C.S. Lewis, in his book Mere Christianity writes this: "Enemy-occupied territory—that is what this world is. Christianity is the story of how the rightful king has landed, you might say landed in disguise, and is calling us all to take part in a great campaign of sabotage."

The Gospel story doesn't merely talk about individual human sin and weakness, difficult enough although those things are. It goes on to claim that because of our collective selfishness and distance from God the whole creation has somehow been infected, and fallen under the influence of darkness. This is why our best individual efforts to do better, to be better, tend not to come to very much.

Paul portrays this as a creation which groans like a woman giving birth, longing for freedom, longing for new life. Both Paul and C.S. Lewis would agree that Christians are called to work and pray for that new creation to be born.

Prayer

Gracious God, I know that things are not the way they should be in the world, or even in me. Please forgive us when we go wrong, and help us to work for your kingdom of justice and peace. Amen.
The reflection is very brief, as is needed for short thoughts for Lent, it is difficult to see how they find their comments in the extract from St Paul. It raises many questions on whether the article actually reflects Paul and his teachings in his letter to the Romans. And whether it has any Christian basis………………….
The second paragraph doesn't refer to Romans but makes an extraordinary claim about the Gospel story;
"The Gospel story doesn't merely talk about individual human sin and weakness, difficult enough although those things are. It goes on to claim that because of our collective selfishness and distance from God the whole creation has somehow been infected, and fallen under the influence of darkness."
This totally baffles me as I cannot think on anywhere in Matthew, Mark, Luke or John which either says of implies this. At best, they may look to John with his "cosmos" as opposed to God, but there John normally uses "cosmos" to mean humanity in opposition to God and not the whole creation, as in John 3 vs16. In other words this statement is just wrong.
It does seem that the writer takes a particular interpretation of this passage from Romans as looking to the Fall of Genesis 3 – or rather that God inflicted a curse on the whole of creation because of Adam's sin. That seems a bit harsh. It is NOT the teaching of almost all Anglican theologians, but is what Young Earth Creationists teach about the Fall and the curse, in which animal pain and suffering, and earthquakes and tsunamis were inflicted by God on creation AFTER Adam ate the apple! It seems rather harsh to curse the whole of creation for Adam's deed.
This idea, though largely and correctly rejected today, has a long history going back to John Milton's Paradise Lost, and has resulted in a misreading of creation in Genesis.
Further the quote from C S Lewis does not speak of creation but of human behaviour. Citing it here implies that Creation is enemy-occupied territory , whereas Lewis meant so much of human behaviour, which rang true in the war years.
How can one say "The Whole creation has somehow been infected and fallen under the power of darkness?"
Granted humans have made a mess of this planet but what infection is there in the rest of the Solar System. ; for example in Venus, Jupiter, or the Sun? The idea becomes even more absurd when we consider further stars and galaxies. On a starlit night just look out at stars and consider how we have infected the stars of the Great Bear or Orion – if we have! Or closer at home consider the beauty of Nature/Creation around you.
This kind of writing sounds all very good and spiritually challenging – until we ask how and when it all happened! If we do that, then we will see it as vague gnostic woffle, which is soothing to our feelings but not to our soul – or it is an argument for Young Earth Creationism, with its curse on the whole of creation.
Romans 8 vs19-23 is a baffling passage and many, and perhaps most, commentators see it as an allusion to Gen 3 and the Fall permeating all creation. If so, they need to see Paul's theology they present here is nonsensical as the Universe in 13 billion years old and Adam's scrumping did not affect the universe!! Unless of course, you are a Creationist and endorse a curse and a young earth!!
The idea or FACT of an ancient universe is not new, and goes back well over two centuries. By 1800 astronomers and geologists had demonstrated that both universe and earth were – then reckoned only to be millions of years old. With all the fossils it was clear that life was ancient too and thus the idea held by some theologians that the Creation was not what God intended it to be was way off the mark. To suggest that humans are to blame is simply absurd! Though that is the reading of John Milton in Paradise Lost.
Humans have stuffed up Planet Earth, but not in that sense. Too many theological writers are careless about this and one bishop recently wrote "the whole creation, in its original unfallen state…." meaning that the creation as we now experience is now fallen and originally was not. The bishop should have said when the creation transitioned from "unfallen" to "fallen". This kind of poor thinking tends to make Christianity incredible.
This understanding of Romans 8 vs 19-23 Turns on the meaning of the greek word ktisis used here, which is commonly translated as "Creation". Ktisis has a variety of meanings as brought out in any decent Greek lexicon. It can mean the whole creation or simply the mass of humanity. The latter makes better sense in Romans 8, as it does in Mark 16 vs15 (longer ending) If these are words of Jesus , did he mean the whole creation and to preach the gospel in the vicinity of Sirius or Betelgeuse? I don't think so, do you? Otherwise you'll preach to dogs and cats and birds and bees. He means to every human as we find in the Post-resurrection commands as presented by Matthew and Luke. (see Day 28 for a reflection on Matthew 28)
For details read;
https://michaelroberts4004.wordpress.com/2017/03/18/mis-reading-romans-chapter-8/
This reading is common today with our very justified concern for the environment today. There is no question about humany's environmental damage to this earth , which I have held since reading Silent Spring in the 1960s. This has happened in so many different ways; Pollution, species loss, climate change and damage from careless mining , development, including fishing and farming.
This contribution for LIVELENT was, I think, written to make us care more for the environment, and we need to.
It is vital to care for creation (what have you done for creation today?) but misreading Paul is not the way to argue for it.