As a kid I loved my Meccano set and was making stuff with it  (or playing or learning mechanics?) until I was 14, when I moved over to taking bikes to bits and re-assembling them. The ten years later I did the same with Morris Minors, which I ran for twnety-five years.
I was given my first Meccano set for my seventh birthday. It wasn't a surprise as I had checked my parents' hiding places for presents. It wasn't a shiny new set but I had lots of bits to play with. I had two favourites; making model vehicles and cranes. I once made a large model which looked a bit like an Austin Atlantic, with IFS at the front, a gearbox and a differential. I made lots of cranes, some of which fell over as they were so high. I would not have made those mistakes if I had consulted an engineering textbook!
My first crane was a bit like this (which is not very stable);
My cranes got bigger and better and I ended up making something like this,
I could have post picture of real cranes but thought these would do. After all, Meccano is probably the best "engineering" toy ever made and beats plasticky Lego into a cocked hat. The name Meccano is related to mechanic and machine and comes from the Greek as Wiki says  "The English word machine comes through Middle French from Latin machina, which in turn derives from the Greek (Doric μαχανά makhana, Ionic μηχανή mekhane 'contrivance, machine, engine', a derivation from μῆχος mekhos 'means, expedient, remedy'). The word mechanical (Greek: μηχανικός) comes from the same Greek roots." The greek, (or at least Koine Greek, the lingua franca of the Eastern Roman Empire) word  μηχανή mekhane can simply mean crane.
Here are some pictures of ancient cranes. They were made out of wood with pulleys and, often, a treadmill to provide power. Some could lift well over a ton. Similar cranes were used in the middle ages for castles and cathedrals. Of course things changed with the introduction of iron and steam power. (I am surprised greenies haven't suggested we go back to human powered cranes.)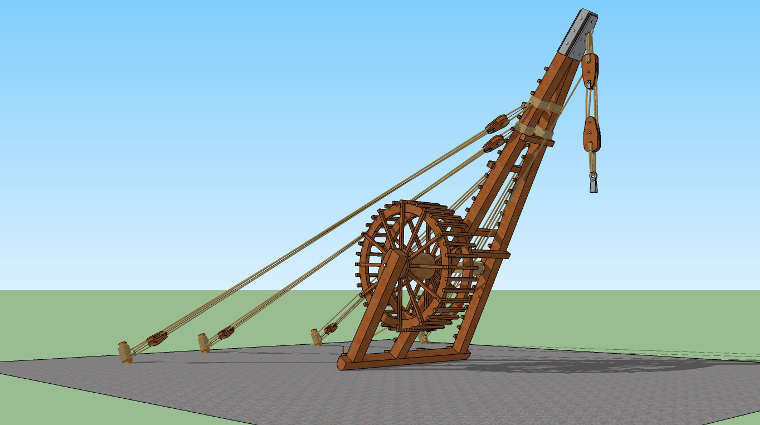 https://en.wikipedia.org/wiki/Treadwheel_crane
They could be quite large. This one seems to be working on an aqueduct.
I had never thought about Roman and Greek cranes until I came across the metaphor as the cross of Jesus being a crane in Ignatius' Epistle to the Ephesians. Ignatius was a second century Christian who became Bishop of Antioch in Syria. Somehow, details are not known, he crossed the Roman authoirites and was sent to Rome to be executed. The date  is normally thought to be in the reign of Trajan (98-117) or possibly Hadrian (117-38). en route to Rome he wrote seven letters – to the churches of the  Ephesians, Magnesians, Trallians, Romans, Philadelphians, Smyrneans and a letter to Polycarp who was martyred several decades later.
To me he is too full of himself as bishop and calls for an almost blind obedience of bishops. Any more comment on that may detract from what he said about cranes. most of his letters are about 3000 words long and thus comparable with Paul's. His aim in all his letters was to encourage fellow Christians who knew he was travelling to Rome to be executed. He seems rather untroubled by his forthcoming death, which was liable to be an unpleasant spectacle. Despite his views on bishops, he is strong on encouragement and his letters have a New Testament feel about them. That is unsurprising as they were written some fifty years later.
In chapter 9 (or better paragraph 9) Ignatius wrote;
because you are stones of a temple, prepared beforehand for the building of God the Father, hoisted up to the heights by the crane of Jesus Christ, which is the cross, using as a rope the Holy Spirit;
This is from the recent translation by Michael W. Holmes, and the whole of chap 9 is
But I have learned that certain people from elsewhere have passed your way with evil doctrine, but you did not allow them to sow it among you. You covered up your ears in order to avoid receiving the things being sown by them, because you are stones of a temple, prepared beforehand for the building of God the Father, hoisted up to the heights by the crane of Jesus Christ, which is the cross, using as a rope the Holy Spirit; your faith is what lifts you up, and love is the way that leads up to God. So you are all participants together in a shared worship, God-bearers and temple bearers, Christ-bearers, bearers of holy things, adorned in every respect with the commandments of Jesus Christ. I too celebrate with you, since I have been judged worthy to speak with you through this letter, and to rejoice with you because you love nothing in human life, only God.  – Epistle to the Ephesians 9
The image of the cross as a crane is vivid and would have resonated with his hearers as most would have seen one these wooden cranes on construction sites, often lifting up large stones to a considerable height. Thus there is a second image  – of stones.
The vividness of the metaphor is that to Ignatius both cranes and crosses were wooden structures with an obvious vertical component. Clearly Jesus was passive and nailed down on the cross, so was immovable, but despite his passivity his death brought about the salvation of humanity. That is what we read about in the New Testament and has been the central focus of the Christian faith ever since. This comes out in so many hymns, including the popular ones of There is a green hill and When I survey the wondrous cross. and then there is the majestic processional hymn Lift high the Cross with its TWELVE verses and chorus, giving time to circumnavigate any cathedral, following the processional cross – lifted high. To Ignatius it is not the cross lifted high, but the cross lifting us up high, as Jesus lifts up those who follow him.
Paintings of those at the foot of the cross abound, from  the almost erotic
Eugène Delacroix
Saint Mary Magdalene at the Foot of the Cross 1829
to a simple photographic silhouette
Looking at the paintings found on google its seems that there were fewer men at the foot of the cross.
Ignatius develops a second image – that of stones, echoing St Peter's words
And like living stones, let yourselves be built into a spiritual house I Peter 2 vs5
His hearers would have seen cranes lifting stones into place, so here we have the Crane/cross of Jesus lifting living stones, Christians, into place. I find it a great image
The third part of the image is the rope which is the holy spirit who, in the words of J V Taylor, is the go-between God, here between Christians and Christ. I suppose it was a three stranded rope too. Sorry, that would be an allusion to the Trinity.
In the 19th century the great New Testament scholar J.B. Lightfoot (1828-89) and later Bishop of Durham, not only wrote some excellent commentaries, but also a mammoth work on the translation and commentary on the Apostolic Fathers. Here he sees another image in chapter 9 – the Windlass.
So here is chapter 9 in the Greek and the translation.
Note that he uses Engine rather than Crane, but Engine  was used more generally in the 19th century for any machinery rather than the producer of motive force! He would have been surprised that most call railway locomotives an engine and that what is under the bonnet of a car. Today μηχανή mekhane  is better translated crane
However he continues "Your faith is your windlass" i.e the pulley system
That is a nice thought but fanciful and the Greek is more literally; "Your faith is the one who lifts you up". The major Greek Lexicon of Arndt- Gingrich dismisses Lightfoot's translation as quite unlikely.
This imagery of the cross  as the crane is very technological  and is hardly ever used. We often sing lift up the cross and how Jesus lifts up the fallen, but never this.
The multiple imagery of a crane lifting up stones for a building is a  good and evocative one, expanding the ideas of Peter (I Peter 2 vs5) of living stones in a pictorial form of the cross/crane lifting up stones and placing them above the corner stone (Jesus). Jesus as the cornerstone is also found in Ephesians 2 vs 20 but Paul jumps to more bilogical imagery.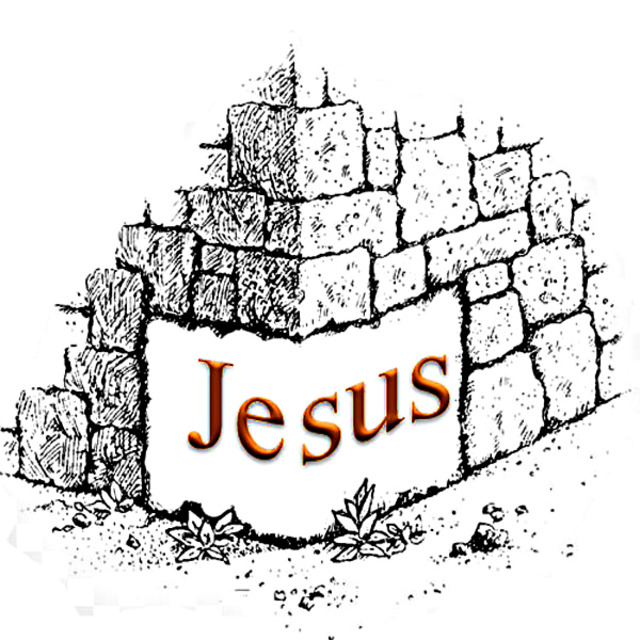 What Ignatius gave us is an excellent image of the work of Christ and it baffles me why it is never used
Here is a crane lifting up a stone for a building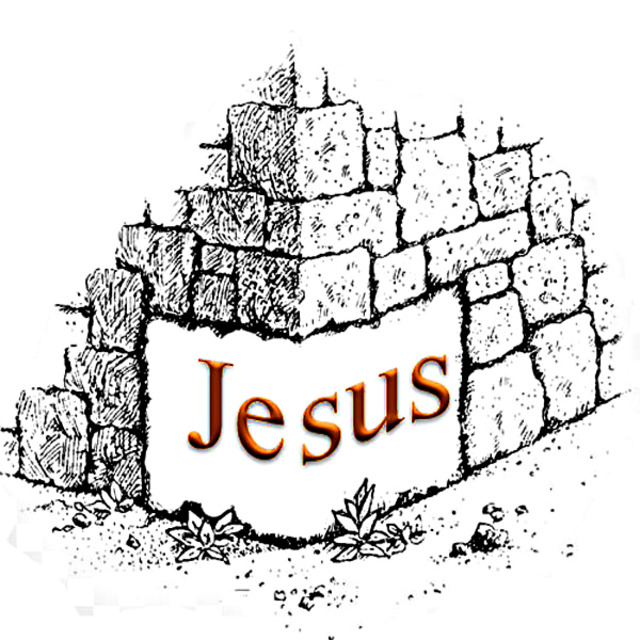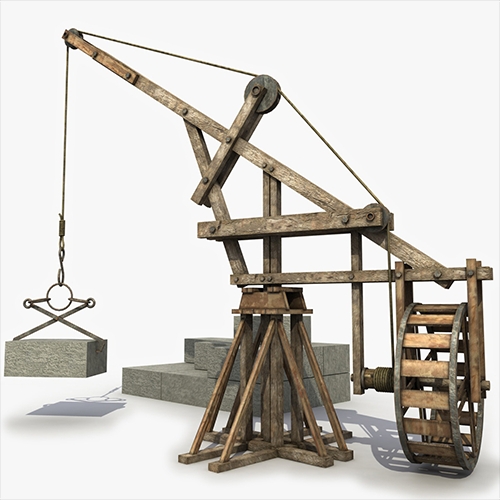 **********************************************
Here is a brief exposition from 1900
http://www.earlychristianwritings.com/srawley/index.html
The Epistles of St. Ignatius
By J. H. Srawley
London: Society for Promoting Christian Knowledge
First published 1900.
http://www.earlychristianwritings.com/srawley/ephesians.html
have learned that certain persons from yonder [3] have passed through your city, bringing with them false teaching. These you did not suffer to sow seeds among you, for you closed your ears that they might not receive the seeds sown by them, since you were stones [4] of the temple, prepared beforehand [5] for a building of God the Father, being raised to the heights by the engine of Jesus Christ, which is the Cross, using as your rope the Holy Spirit. Your faith is the windlass,[6] and love is the way which leads up to God. So then you are all companions in festal procession along the way,[7] bearing your
[1] Suggested by 1 Cor. ii. 14 sq.
[2] See Introd. § 4.
[3] It is uncertain what place is alluded to. Lightfoot conjectures Philadelphia.
[4] The change of metaphor is sudden, after the manner of Ignatius, and is followed by another change. They are in succession the soil in which seed is sown, stones of a building, and members of a festal procession.
[5] Lightfoot's emendation has been adopted.
[6] The whole of this passage is a somewhat extravagant expansion in great detail of the metaphor used by St. Paul in Eph. ii. 20 sq. In the building of the Church, the faithful are the stones, the Cross is the crane, the Holy Spirit is the rope by which the stones are raised, faith is the windlass which sets the machine in motion, and love is the inclined plane along which the stones are drawn.
[7] Another change of metaphor. The figure is now a heathen procession, in which the pilgrims, arrayed in festal attire, carry small shrines, images, and other sacred emblems.  Such processions would be common in Syria, Asia, and elsewhere.  For a gift of such images to the temple of Artemis at Ephesus, see Lightfoot, Ignatius , II. 17.