In the heady days of the protests outside the fracking site at Preston New Road one got used to the scruffy temporary buildings, the Nanas smoking fags, occasional visits from the elite from the Green Party – and, of course, Geza Frackman /Tarjani who made friends with everyone and has yet to be vaccinated. along with that was the barrage of disinformation from the various frackfree groups, who got upset when dissected.
Friends of the Earth had a go too, and got their knuckles rapped by the Advertising Standards Authority
We were told how massive quakes would bring down houses, many would get cancer (sometimes said just after having a fag), water courses would be polluted, fracking fluid contain dangerous chemicals, wildlife would be destroyed, and the traffic would be excessive. all these claims were neutered by reputable bodies, but they were repeated ad nauseam.
Below is a poster on Preston New Road, and a meme based on a dodgy comment from an activist scientist, wrongly ascribed to Sir Mark Walport by the Graudain
Of course, anyone who supported fracking was a climate denier, capitalist pig, a Tory lacky, a shill for big oil and so on. The churches fell for it and repeated the same stories in their publicity.
Fracking came to a sudden stop in 2018 after a Mag 3 tremor, which wouldn't even get a mention in San Francisco, where they occur almost weekly. In 2019 a moratorium was imposed by the government, which still allowed geothermal energy which results in larger "quakes".
Now it seems that the antifracking horror stories have been taken on by such august groups as the Conservative Environment Network (of which more in another blog and the Energy and Climate Intelligence Unit https://eciu.net/  ECIU
It has an impressive board "The Energy and Climate Intelligence Unit's Advisory Board reflects the breadth of interest within Britain in energy and climate change issues. Members of the board advise ECIU on matters of science, economics, policy, community interest and communication. ECIU is deeply appreciative of their advice, support and involvement." It includes Michael Howard, Andrea Leadsom, Lord Puttnam and Lord Krebs among others. Their purpose is summed up:
   We support journalists, parliamentarians and other communicators with accurate and accessible briefings on key issues, and work with individuals and organisations that have interesting stories to tell, helping them connect to the national conversation.
Sadly this tweet does not live up to that ideal and is sweeping, biased and inaccurate. The Nanas would have been proud of it.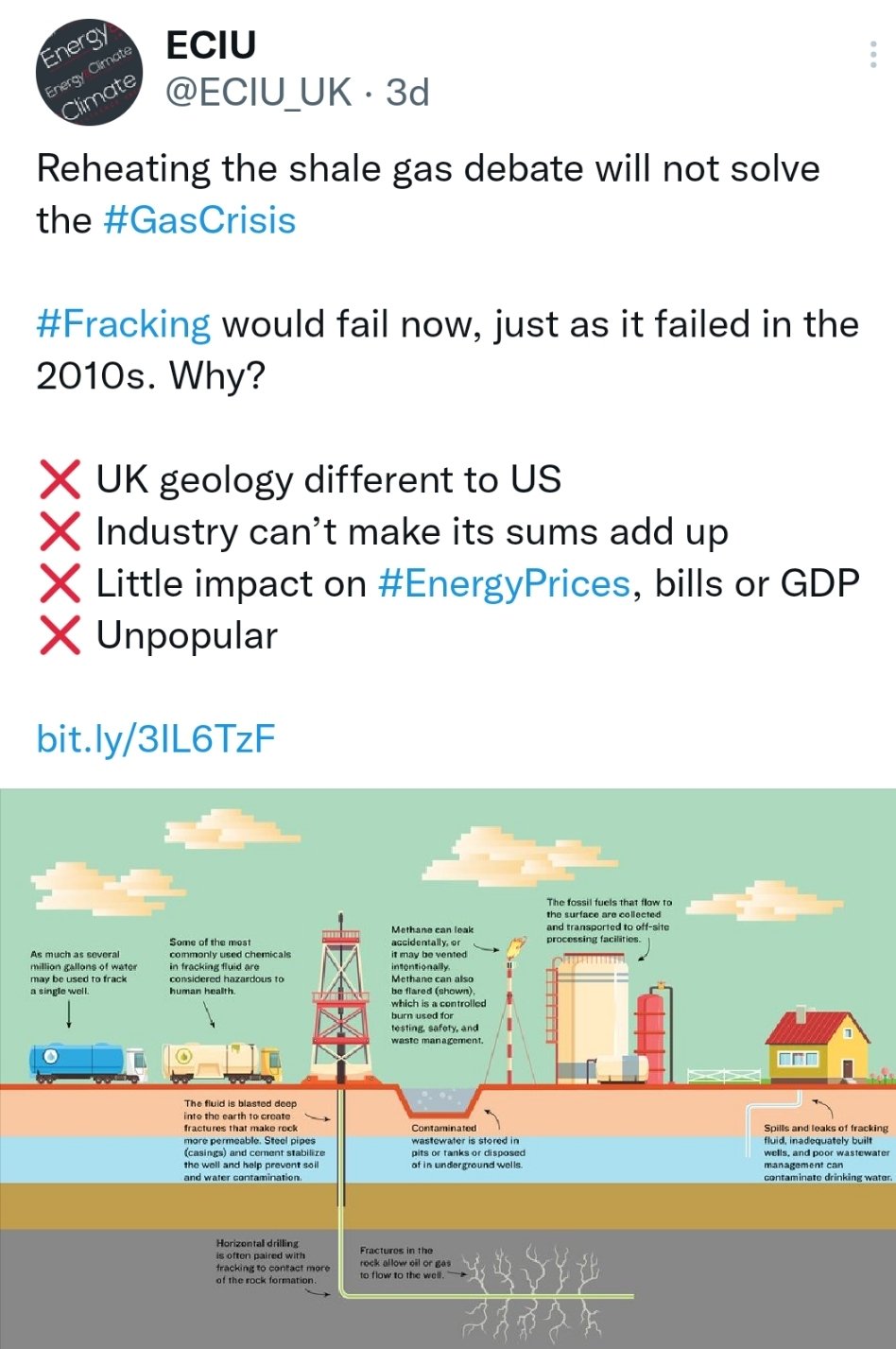 The four negative arguments against fracking are simplistic and could come out of the Friends of the Earth play book.
1 Geology Of course the geology is different, as it is in various parts of the USA! The strata in Pennsylvania are much more folded and faulted than those in New Mexico! In UK oil and gas has been safely extracted near Studland, the Weald, Leicestershire, Yorkshire  and in Lancashire, Formby and Elswick, close to the cuadrilla sites. Many of these involved fracking e.g Elswick
2. Industry can't do sums That needs explanation and is irresponsible with substantiation.
3. Little impact on prices The price to the customer is only part of the issue. British produced gas may not be cheaper but it has two advantages. First, tax revenues would be very valuable. Secondly, importing gas involves increase of emissions due to transport  and loss of gas in transit. Meanwhile we simply import gas from all over the world and haven't even checked whether there is gas under the north of England.
4 Unpopular For ten years green groups had a sustained campaign of misinformation and scaremongering. A good example is Friends of the Earth who were hauled over the coals by the Advertising Standards Authority. Living 10 miles from the Lancashire site, I came across many examples of locals being given false information. No wonder it is unpopular.
The unpopularity was proclaimed after 25,000 letters of objection were sent to Lancashire County Council in 2015. As I wrote in my blog back in 2015 "  Out of all the objections , over 18000 were template letters templates & 11500 from outside Lancashire."  The template letter was full of misrepresentation too.
https://michaelroberts4004.wordpress.com/2015/01/09/25000-letters-of-objection-to-fracking-in-lancashire/
Really ECIU should be more politically savvy. 
The Diagram.
The diagram presents fracking as a very dirty and dodgy method, and if it were true I would oppose fracking everywhere! But;
Consider each snippet of text.
Yes, it uses loads of water as does every other source of energy e.g. nuclear and coal. Often the water can be re-used.
Oh yeah! Some of the chemicals are hazardous to health. This harks back to the list of over 600 dangerous chemicals in a list made in the USA nearly 10 years ago. Most are no longer used in the USA and almost all banned inn the UK. In the UK, the main chemical  – 98% – is that lethal substance water. Along with that some surfacants are used  (same as in kitchen products.) In 2015 a Friends of the Earth leaflet claimed carcinogens were used. It was slated after complaints from cuadrilla and two OAPs by the Advertising Standards Agency. Under pressure  on BBC Northwest  Dr Tony Bosworth of Friends of the Earth identified the carcinogen  – SAND!!!!! In fact Governor Hickenlooper  of Colorado actually drank some!
Methane can leak or be vented. Yes, a little is. This can either be by accident or necessary during exploration.  As firms want to sell the gas, they don't want leaks as that means loss of profit
Spills and leaks of fracking fluid. That is always possible, whenever fluids are involved – eg agricultural run-off, sewage or industrial pollutants polluting land and waterways. None should happen. Great care is taken on fracking sites – evident to all who visited them. The site at Preston New Road was carefully protected as I saw on several occasions. There were no spills or leaks with Cuadrilla. Some happened in the USA but were mostly due to badly constructed wells.
The casings are considerable and effective. 
Oh dear, the picture of ponds is so American. Yes the ponds for contaminated waste water. However these ponds are not allowed in the UK and the water has to be taken off site to be treated.
Horizontal  drilling! Yes, but they should have made it clear that the actual fracking is done about 6000ft below surface so there is no chance of cracks making it to surface. The maximum extent of cracks has been found to be 1000ft, so still a mile belwo surface.
It is surprising, or not, that the ECIU used a hostile American diagram, which was produced not to inform ABOUT fracking, but to persuade against fracking. The diagram is UNTRUE for fracking in the USA and doubly untrue for fracking in the UK.
This is very careless slovenly reflecting badly on the ECIU. It seems that inexperienced and ill-informed employees are allowed to make public statements on social media.
************************************
finally the diagram is typical of "popular" diagrams produced to "explain" fracking. Most contain serious errors, but none give are fair picture of just how deep down fracking will take place. Form diagrams one would conclude a few hundred feet, whereas it is 6000 to 8000ft, i.e double the height of most British mountains. Imagine having to climb a mountain twice as high as Snowdon or Scafell!!
Before that here's another dodgy diagram
Now a undodgy diagram: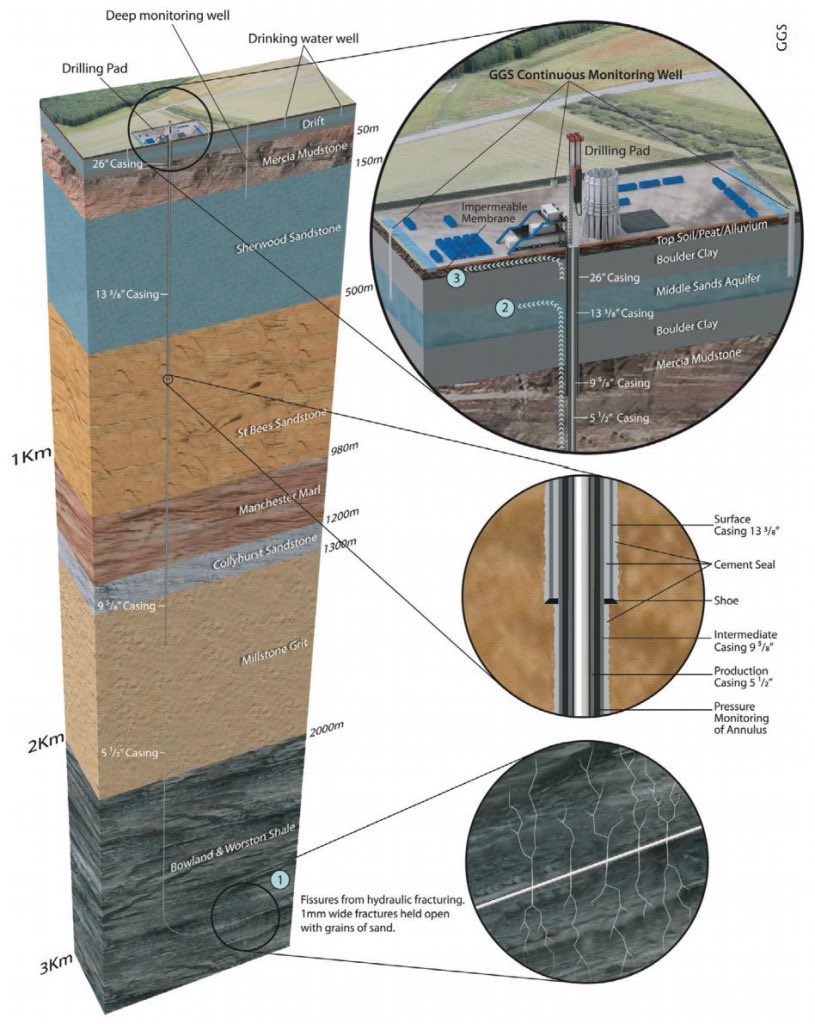 l