Here is an alternative picture of Jesus
Compare it to the classic of Holman Hunt which is too white
Now many will say that it is well-known that Jesus was not white as he came from the Middle East. Yes, I know, but too many still reckon Jesus was white as this incident fro the other local church shows.
Please consider two discussions with youngsters. The first was with our Year Sixes. One thought Jesus' birthday was 25th December. We pointed out we didn't know and that was his official birthday. Jesus was born around 6BC. It was light-hearted!
The second in another church a lad of eleven said that Jesus was dark-skinned and not white. He was corrected and put in his place. Our Year Six agreed with him when I told them about it. It is appalling that today some still insist that Jesus was white. And even more appalling that a child should get put down for saying Jesus was not white. One year Six said his skin was latte !! Now this is not trivial, especially a lad being put down. In the 1930s Nazi Christians were insistent Jesus was Aryan and thus white.
When in apartheid South Africa I often stressed that Jesus was coloured! Somehow it did not always go down with white Christians.

As Jesus was from Judean stock born in Israel 2000 years ago he would not be white and had the darker skin of that area. When we grasp that, we cannot be racist. It is almost that Jesus has the average skin colour of all people, and thus relates to all of us whatever "race" we are.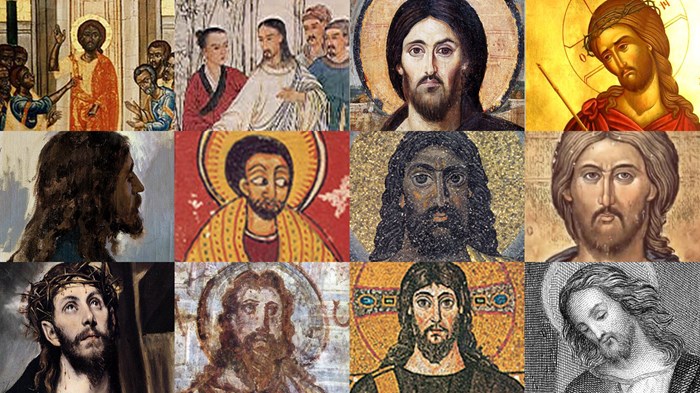 And that leads us to consider why we celebrate the birth of a non-white baby 2000 years ago. As I explained to year 6, it was so unknown that no one recorded it, unlike the birth of the other Sons of God – Julius Caesar and successors.  Probably the best is to say it was about 6BC, though Sir Colin Humphreys of Cambridge has tried to narrow it down to a week or so. It seems most odd to make so much of this unknown wandering preacher who was executed by the Romans in their nastiest fashion.

Many want to choose what they believe about Jesus rather than accepting the whole Jesus package. This particularly applies to those who see Jesus as a great moral teacher and leave out the religious bits. Many, great and small, have done this as did Mahatma Gandhi. It's also provided the moral basis for much of Europe, but that is now being eroded.

However that ignores so much of the gospels on Jesus. To some it just leaves out the mumbo-jumbo, as the religious bits are sometimes called, especially that about his Incarnation, being Son of God, the atonement and the resurrection – not to mention the Holy Spirit. If it had not been for them, Jesus would have soon been forgotten, as he would have been just another wandering eccentric Jewish teacher. The message of those early Jesus followers was not an appeal to morals but trust in a person who is our saviour in contrast either to the teachings of Judaism or the customs of the Roman Empire.

The message was that humans are in a mess and need saving and this happens because this Jesus died on the cross and rose again and thus we should follow his moral teaching. Thus Jesus was seen as the Lord Jesus Christ, Son of God, saviour and King. Now today that is a standard formula about Jesus but in the first century it was radical as it cast a snook at the Roman Empire where the emperor was known as son of god, lord, king and saviour. That is often lost on us today, but in the roman Empire it resulted in the deaths of those Christians who would not recognise the emperor as God and offer him a sacrifice. Today Jesus is so tame and domesticated that we miss his radical challenge.
So back to Christmas, beyond all the tinsels and donkeys, we need to see that we celebrate the obscure birth of someone who transformed the world and billions of people.

Hopefully he has transformed each one of us.
So this Christmas period let's ask how Jesus needs to change us.