Now  that might seem a very odd question? Surely Creation i.e the natural world – call it what you will, is wonderful and beautiful as these two photos show;
The first is of Llyn Idwal and the Glyderau behind. I have been visiting there in all weathers and seasons since 1963 and it's always wonderful. On the right is a typical January scene on the river Wyre near me. Snowdrops never fail to enchant. There is nothing futile here.
Most people would agree that this planet and the rest of the universe is full of wonder and awe, and many would point to Attenborough documentaries. It is clearly beautiful, though at times very harsh, but I can't see many looking for and finding futility.
Yes, our world is also full of suffering alongside the incredible beauty. There are those, following the poet John Milton, who think the suffering is the result of Adam and Eve's misdemeanors when the ate the fruit (note that the latin word malus means both apple and sin). suffering and death is God's punishment for that  and seems rather excessive. It is still widely held by Creationist Christians who won't accept that the earth is billions of years old and suffering and death have been around as long as life. As all this was known over two hundred years ago it is surprising that some seem to think that the creation is subject to futility. Some even hold it along with an acceptance of evolution.
Let's now consider a leading Anglican New Testament scholar who accepts evolution and that creation is subject to futility – N. T. Wright. With his vast output he needs little introduction and has probably written one of the best books on the resurrection, where he deftly avoids a simplistic physical resurrection and a non-bodily one. Theologically he is a leading representative of moderate evangelicalism, but some of his Perspectives on Paul are less appreciated by the more conservative and reformed Christians. That is another issue, but I side with Wright on these. But let's first consider his understanding of Romans 8 in his series Paul for Everyone.
Here is his translation of Romans 8:19-21 New Testament for Everyone (NTE) (which is closer to the Greek than given by Sanday and Headlam in their commentary!)
19 Yes: creation itself is on tiptoe with expectation, eagerly awaiting the moment when God's children will be revealed. 20 Creation, you see, was subjected to pointless futility, not of its own volition, but because of the one who placed it in this subjection, in the hope 21 that creation itself would be freed from its slavery to decay, to enjoy the freedom that comes when God's children are glorified.
That is followed by a brief exposition beginning with taking a country walk. I was not happy that he normally walks to take exercise as to me walking is a multi-faceted activity as I enjoy the effort/exercise of climbing 3000ft up a Lakeland fell, as looking at the views, finding unusual flowers like sundews, spotting glacial features and looking for all things new! He had taken an overgrown path and found it led to fantastic view and then likens Rom 8 vs18-25 to a fantastic view of "the whole plan of salvation for all of God's creation". He criticises, rightfully, those who see Paul's theology solely in terms of individual justification and salvation. But after that I depart with haste from his view.
I was proud of this photo of a struggling rowan high up the Bowland fells. I see beauty and the tenacity of life but no futility. Also God must be a rum lad if he subjected creation to futility!
He then wrote; "The language of creation on tiptoe with expectation is not what they expect. The strange idea of God subjecting creation to futility and slavery, and of creation then being rescued, simply isn't what people wanted to hear. …. So the path to the viewpoint has been covered over with thorns and thistles." This made me blink. I am afraid that in the summer months my legs are covered in scratches. Once, in a desert, I walked past a bush and a venomous snake popped out and tried to nip my bare leg! There must be some theology in that. On another occasion I nearly trod on a sleeping Cape Cobra ……
He continues, "the present suffering, … will be far outweighed by 'the glory that is going to be unveiled for us'. He's spot on there, but not in his conclusion to the paragraph "then, at last, creation … will know that the time has come for it to be rescued from corruption."
I want to ask, how is creation corrupted? Except where stupid humans have polluted it.
I am baffled in what way creation, like all the strata from the early Precambrian to the Ice Ages, needs to be rescued from corruption. Much of my field geology has been on glacial geology ancient and modern!I cannot see anything corrupt in the Precambrian Numees Tillite  (c800 million) or recent Lower Dryas moraines,(20,000 years)  which I worked on.  He continues:
"To understand this, we need to grasp the big biblical story of creation. … God has allowed creation to be subjected to its present round of summer and autumn, growth and decay, birth and death."
He wrote more fully in Evil and the Justice of God. P116-7
Creation, writes Paul, has been subjected to futility (Romans 8.20). Don't we know it: the tree reaches its full fruitfulness and then becomes bleak and bare. Summer reaches its height and at once the days begin to shorten. Human lives, full of promise and beauty, laughter and love, are cut short by illness and death. Creation as we know it bears witness to God's power and glory (Romans 1:19-20) but also to the present state of futility to which it has been enslaved.
I question this interpretation, both of Romans and Genesis, as it makes creation to be rotten to the core. Romans does not say that and it is so contrary to experience – at least my experience. I cannot see futility in the shortening days after the summer solstice. Also the word futility (mataiotes in Greek is ONLY used of the human condition in both the Old and New Testaments, so it is odd to use here for the inorganic creation. I cannot see it in geological studies, which trace out a detailed history of the surface of a planet. I cannot see the Four Seasons as anything but wonderful in their variety and nothing futile.
The beauty of creation in the seasons- a random selection of my photos
and the futility;
Where is the futility in a struggling moorland oak in autumn or a British mountain under snow. The mountain is Ingleborough which I had just climbed for the nth time!
(The word translated futility is mataiotes which in the Greek New Testament and the Septuagint is only used for human folly!)
Also I am one of those who cycles, walks and climbs mountains every month of the year and in all weathers. As I write this on St Nicholas's day my last three months of walking during the autumn must have witnessed that annual subjection to futility. No way! I've had three glorious walks in the Lakes, three in the Yorkshire Dales and many more in the Forest of Bowland. Yes, I've experienced wind, rain, snow, cold and warmth and gone up to my thighs in a sphagnum bog! Now that was futile!! My feet were frozen.
Stinging nettles, thistles, thorns, midges and horseflies – and in the past, tsetse flies! I have watched autumn unfold and merge into winter, fungi helping the process of decay/recycling/upcycling in weird and wonderful ways, stands of bog asphodel after losing their fantastic yellow flowers and turning bronze before sinking into a peat bog, frozen pools and a little snow. Beauty, awe and wonder, but no futility. I now look forward to climbing in the snow, and then to the pastel greenness of spring with its flowers, on to the height of summer and back to autumn. At Christmas I am looking at the buds in my garden and daffs poking through. Come January I'll be looking for snowdrops in the road verges. In all of it I echo G M Hopkins;
The world is charged with the glory of God
not to mention some of the  psalms like Psalm 8 and hymns like How great thou art on creator and  creation
Yes, this has been going on for 4 billion years and is the nature of creation which was written in at the beginning. But his representation of "corruption, futility and slavery" shows that he believes that the creation is not as God intended. He writes of "the sharp end of corruption of creation – on an earthquake fault line, for instance, or by an active volcano – you may sense the awe of that futile power." Power, yes, but not futile. Often it may be tragic as with the recent eruption in New Zealand. Plate Tectonics, and the attendant quakes and volcanoes were there from the beginning. And that beginning predated humans by a few billion years.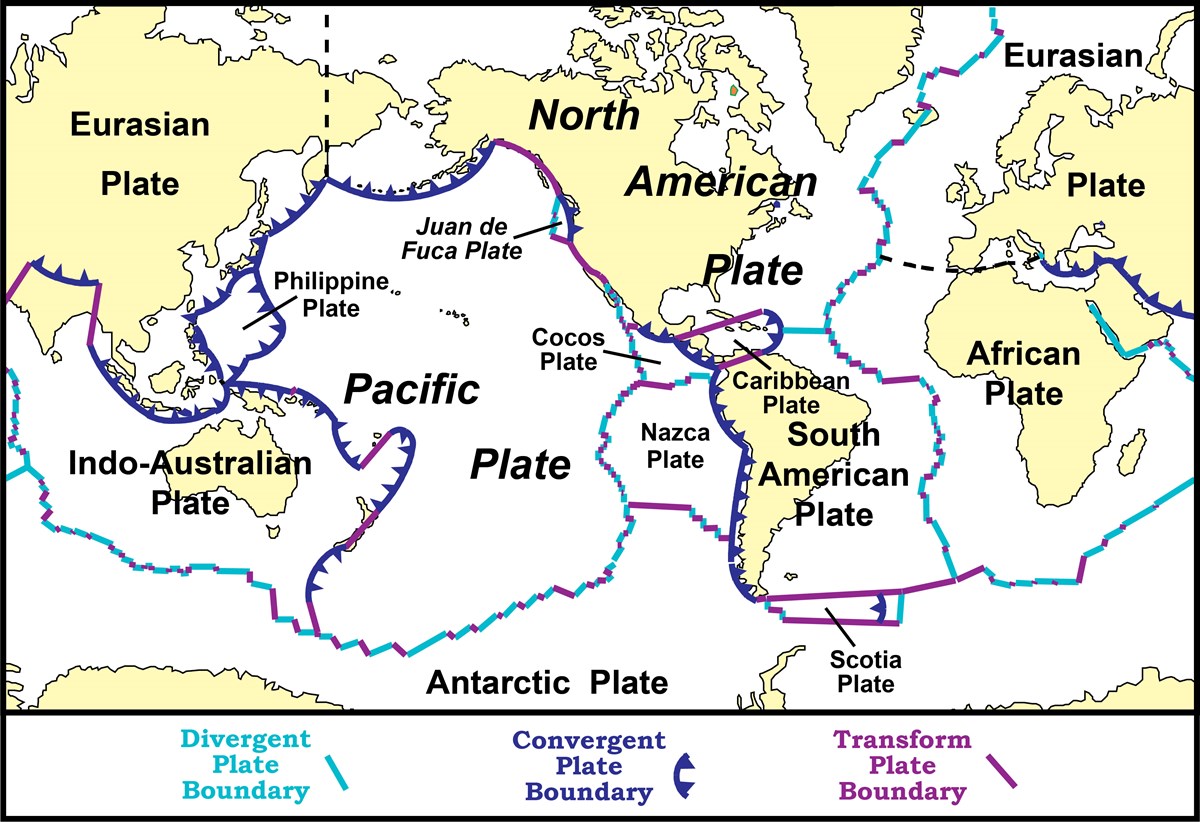 On Feb 6 2023 a massive Mag 7.8 hit Turkey and Syria along a major weakness, which contiues to the Himalaya and was the localituy of the Nepal quake and the 1950 Assam quake.
( I discuss the Assam quake which nearly knocked our house down and local tremors here
https://michaelroberts4004.wordpress.com/2017/08/15/assam-earthquake-15th-august-1950/
One of my great climbs was up Mt St Helens in 2009, which blew its top in 1980. It was totally awesome. Many years before I was scalded in Bumpas Hell just below Lassen Peak in California, while taking a photo of sulphur crystals. I was shirtless at the time when a gust blew steam over me. I squealed!
A view from the summit of Mt St Helens showing the devastation caused by the 1980 eruption. Is Mt Ranier is the distance next to go? The grey area was green forest.
I've experienced a few minor quakes in Britain and a massive Mag 8.6 as a child which I do not remember, and one about Mag 4.5 in the middle of a hymn during worship in Uganda. The organist missed a few notes and carried on as we did!
If Wright is correct then there should be something marking the introduction of quakes and volcanoes in the geological record, as that should have occurred when Adam and Eve went scrumping.
There are none.
If there were, I could not have found volcanic lavas in strata some 900 million years old in the Namib Desert nor glaciation in 650 million year old strata nearby, nor some big faults caused by tectonic shifts resulting in quakes some 600 million years ago. I could also mention all the other ancient volcanic rocks I've seen from the 2.2 billion year Scourie dykes in the Highlands, 450 million year old lavas in Snowdonia and the Lakes giving excellent rock-climbing, not to mention the mere 65 million year old rocks in Skye. In fact, volcanoes and igneous rock have been formed for a good 4 billion years.
In 2005 Wright gave a lecture God, 9/11, the Tsunami, and the New Problem of Evil (Transcript of one of N.T. Wright's May 18-19, 2005, lectures at the Church Leaders' Forum, Seattle Pacific University. https://spu.edu/depts/uc/response/summer2k5/features/evil.asp)
In the lecture he wrote;
What then about the tsunami? There is of course no straightforward answer. But there are small clues.
We are not to suppose that the world as it currently is, is the way God intends it to be at the last. Some serious thinkers, including some contemporary physicists, would actually link the convulsions which still happen in the world to evil perpetrated by humans; and it is indeed fair enough to probe for deeper connections than modernist science has imagined between human behaviour and the total environment of our world, including tectonic plates. But I find it somewhat easier to suppose that the project of creation, the good world which God made at the beginning, was supposed to go forward under the wise stewardship of the human race, God's vice-gerents, God's image-bearers; and that, when the human race turned to worship creation instead of God, the project could not proceed in the intended manner, but instead bore thorns and thistles, volcanoes and tsunamis, the terrifying wrath of the creation which we humans had treated as if it were divine.
I was simply stunned to read that and have long restrained from discussing it. I am well-aware of induced seismicity from hydropower, mining and fluid injection in wells, but this is another level or two up.
All these quotations could have come straight from a recent publication of Answers in Genesis and I find it difficult not to read it in the sense that the author believes that "thorns and thistles, volcanoes and tsunamis" are the result of human behaviour i.e. a Curse as the result of the Fall. That was dealt with by the assault of geological hammers and biological microscopes, if not by good exegesis. I am, of course, aware of induced seismicity, at times up to Magnitude 6, whether from mining, fracking, geothermal energy, or the unsettlement of strata from hydro-electric dams, but human activity cannot be the cause of tectonic movements before humans appeared on the scene and could not cause the massive earthquake which resulted in the 2004 boxing Day tsunami, or the eruption of Mt St Helens to give two examples.
The next paragraph makes his understanding clear;
"The human race was put in charge of creation (as so often Paul has Genesis 1-3 not far from his mind). When humans rebelled [in Garden of Eden] and worshipped parts of creation instead of God himself (Rom 1 21-23), creation fell into disrepair."
How did creation fall into disrepair not so many thousands of years ago? How does the disrepair manifest itself? My bicycle takes a battering as I cycle over 4000 miles a year and continually edges towards disrepair necessitating repairs or replacement. Yes, it is continually falling into disrepair – particularly after winter cycling! But the creation? How?
I expect to read something like that on the website of a Young Earth Creationist group. What Wright is claiming is that when Adam and Eve fell in the Garden of Eden that affected the whole of the natural order, or creation, or cosmos, or universe and made it change from a good state to one of disrepair and had fallen into corruption, whereas it was uncorrupt before. Seriously, From my fieldwork, I cannot distinguish between the basic make-up of glacial material deposited 600 million years and those from 20,000 years ago, or alpine moraines today. I have studied all three in the field. We need more on how the creation is corrupt whereas previously it was incorrupt.
He concluded his lecture;
The Gospels thus tell the story of Jesus, and particularly of his death, as the story of how cosmic and global evil, in its suprapersonal as well as personal forms, are met by the sovereign, saving love of Israel's God, YHWH, the creator of the world. They write intentionally to draw the whole Old Testament narrative to its climax, seeing that narrative precisely as the story of God's strange and dark solution to the problem of evil from Genesis 3 onwards.
Here he first looks to a past event when "evil" was introduced to a pristine planet – including earthquakes – and also conflates natural with moral and spiritual evil. Wright seems to imply that natural events like volcanoes and earthquakes are not as God intended. On could add disease and death, but all these are part of the fabric of the natural world.  Leaving aside the issue of natural and moral evil, this whole discussion brings out the Achilles heel of many theological "reconciliations" of theology and evolution. Most are aware of the reality or brute fact of the vast age of the universe and evolution, but then approach their theology and biblical interpretation implicitly rejecting that reality and thus adopting a theology more amenable to young earth ideas. Most commentators on Romans 8 do this as do many other theologians.
If all these scholars are correct in taking ktisis as meaning the whole of creation , the cosmos, or the universe, then their theology and that of the apostle Paul is totally contrary to the physical realities we have in geology, biology and cosmology.
Is Paul simply wrong or have we got Paul wrong?
As Wright presents his understanding of the Fall in these three places he effectually adopts a Miltonic view of the Fall accepting that it had a serious and deleterious effect on ALL creation and that is how his epic poem Paradise Lost begins
"Of man's first disobedience, and the fruit
Of that forbidden fruit, whose mortal taste
Brought death into the world, and all our woe".
and
Beast now with beast gan war, and fowl with fowl,
And fish with fish; to graze the herb all leaving,
Devoured each other. P.Lost X 710-12
We are too easily lulled by Milton, as the the geologist Rev Edward Hitchcock stressed in the 1850s, when he wrote, "we groan under the burden of Milton's mythology.".
https://michaelroberts4004.wordpress.com/2016/02/19/why-the-apple-didnt-kill-adam-and-eve/
Great though Paradise Lost is, it is putting the whole Genesis account as portraying a young earth and the dramatic change to the constitution of this planet caused by "man's first disobedience." Some New Testament scholars are saying that – at least implicitly. In other words, all of these are essentially saying Young earth Creationism is right, there was this CURSE and thus the earth is thousands of years old. That is simply untrue as the earth is billions of years old and life nearly as old, and thus death also and earthquakes.
Creation is wonderful and not subjected to futility as these photos show;