In 2019 members of Christian Climate Action and others prevented workers travelling by Underground. They did it for the climate and were nearly beaten up.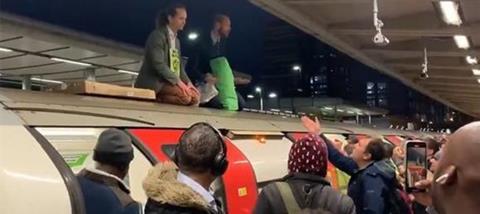 Move on three yeas and CCA have written to General Synod members asking them to back divestment  and support the route map to Net Zero 2030.

Here is the letter and my comments, which are  as "quote , bold, italic" thus .

my comments, which are  as "quote , bold, italic" thus
A letter asking Church of England Synod members to endorse the Church's Routemap to Net Zero and urge all areas of the Church of England to divest from fossil fuels before COP27 has been sent to all Synod members ahead of Synod in York this Friday.
The letter, which was emailed to all 467 members on Tuesday 5th July 2022, is reproduced below.
Dear Member of Synod,
York Synod: Routemap to Net Zero Carbon and divestment from fossil fuels
I am writing to you, and all members of Synod, on behalf of Christian Climate Action[1], for two reasons:
To urge you to vote in favour of endorsing the Routemap to Net Zero Carbon 2030 motion being debated at Synod in York this Friday 8th July.
In the words of Archbishop Justin, 'Climate change is the greatest challenge that we and future generations face'[2]. Scientists are telling us that we have very little time left to act if we want to give ourselves reasonable change of avoiding the worst impacts. Of course, vulnerable communities around the world are already experiencing the ravages of climate change first and worst'[3].
The challenge of Climate Change needs reasonable action not extreme action resulting in disruption and damage. Nor affecting people's livelihoods.

In UK emissions been dropping since 1990 with the shift from coal, more efficient engines, insulation. From an 80s perspective this is amazing, but there is a long way to go. There are several hurdles.

There is an inevitable lag by industry as changes take years to effect. There is also the danger of simply exporting industry overseas so emissions get recorded there and not by British consumers.

A major problem is the lack of understanding by Joe Public, who often does not grasp the issues, nor how each person must change habits. Protest probably slows this down. 
We are pleased that back in 2020 the Church of England agreed to work toward Net Zero by 2030. It is now important that the routemap that will get the Church to Net Zero is endorsed and put into action as swiftly as possible. Not only will this reduce the Church of England's emissions, it will also act as prophetic statement and an inspiration to the wider world.
There are many questions about Net Zero 2030. There seems to be a blind acceptance that renewables are the answer, but many are expensive and inefficient. This could lead parishes into bankruptcy. See later comments on renewables.

Many of the suggestions for insulation, efficient lighting are vital and should have been encourage years ago and are separate from Net Zero.
As well as voting in favour of the motion we would encourage you to speak in favour of it during the debate on Friday afternoon to help ensure it is passed.
Beyond Synod, we would also encourage you to do everything within your power to implement the route map in your local context. The motion calls on every Diocese, Cathedral, TEI, school, office and the top 20% of energy-consuming churches, to agree a programme of action to achieve net zero with a clear time frame based on the routemap.
We also note that the routemap does not include the Pensions Board or the Church Commissioners and that they are both aiming for Net Zero by 2050. Whilst the Pensions Board expects to achieve this 10-years early[4], this is simply too late.
According to Professor Sir David King, Former Chief Scientific Advisor: 'We have 4-5 years to put in place everything to manage civilisation for the next millennium'[5].
King is pro-nuclear, which some object to. His views on Peak Oil in 2010 are now totally out of date as there is no peak.

Yes, things need to be put in place, e.g. increased nuclear, alternative energies, insulation and other mitigatory measures, but to ditch fossil fuels before these are ready to take over will cause untold suffering as many will not be able to afford energy. Blind appeals to renewables doesn't help.

There is no connection between the routemap and King's warning.
We would encourage you to do anything you can to push for the Church Commissioners and the Pensions Board to move their targets forward to 2030, so as to align with the rest of the Church of England.
2. To ask you to urge all sections of the Church of England to commit to divest from fossil fuels as a matter of urgency.
The burning of fossil fuels constitutes 86% of carbon emissions and is the key driver of climate change.
This is an over-estimate as this diagram shows. It also omits to point out how fossil fuels are used apart from fuel
In detail  this is in  https://ourworldindata.org/ghg-emissions-by-sector

Agriculture, Forestry and Land Use: 18.4%

Agriculture, Forestry and Land Use directly accounts for 18.4% of greenhouse gas emissions. The food system as a whole – including refrigeration, food processing, packaging, and transport – accounts for around one-quarter of greenhouse gas emissions. We look at this in detail here.

(The figure of 184% for agriculture excludes use of energy, and it lists what these are.
In May 2021, the International Energy Agency's Executive Director said: 'If governments are serious about the climate crisis, there can be no new investments in oil, gas and coal, from now – from this year'[6].
This is one person's opinion and not the general view. No mention of alternative energy and that these are not yet in place.
And in March this year UN Secretary General, Antonio Guterres commented it was 'Madness to turn to fossil fuels because of the Ukraine war.'[7].
A disembodied quote adds little. What alternatives did her suggest?
Yet fossil fuel companies including Shell and Exxon Mobil are currently spending over £100 million per day on exploring new oil and gas[8] [9] [10]. They are continuing to reap the rewards of unabated exploration and production, while falsely promoting the idea that they are investing a significant percentage of their capital on renewable energy[11].
This may seem a vast sum, but mineral exploration is incredibly expensive. It is expenditure to keep reserves as they are and not declining. One reason for the present high prices of gas/oil is the cutting back of exploration for the last decade.
NB all scenarios include use of fossil fuels beyond 2040 hence need exploration to provide sufficient oil and gas
The evidence against continuing investments in Shell in particular, is mounting. It is apparent that in March of this year Shell took advantage of cheaper Russian oil prices resulting in a public outcry[12].
They have since been accused of using an 'accounting trick' to continue buying Russian oil secretly[13]. In addition, we believe that many of the clergy and laity of the Church of England would find it deeply uncomfortable knowing that the Church is profiting from Shell's 'highest quarterly profits since 2008' in March in the midst of a fuel and cost of living crisis.[14].
To say these are the highest quarterly profits since 2008 is both absolutely true and totally misleading and duplicitous. It is distortion by selective truth rather than the whole truth.

Now consider this chart of Shell's quarterly profits since 2008. 
It is a duplicitous argument. Note the almost wipe-out of profits in 2020, drop in 2009 and 2016. It is dishonest not to point that out. Further, any following energy issues would have known this, unless they operated on a Conscious bias.
These actions do not appear to be aligned with your Responsible Investment policy established around the two principles of "Respect for People" and "Respect for the Planet".
It is heartening that 12 Church of England dioceses have, in recent years, divested from fossil fuels and made public commitments not to reinvest[15]. However, 13 dioceses continue to invest in fossil fuels and the Church Commissioners and Pensions Board are thought to collectively hold investments of c.£55m in fossil fuel companies.
We understand that the Church Commissioners and Pensions Board intends to divest from fossil fuel companies that are not 'Paris Agreement complaint' by the end of 2023. However, on their current trajectory, it is highly unlikely they will become Parris Agreement compliant between now and then and time is of the essence on this issue.
Why should we believe CCA, with its  record of disruption and Conscious Bias? It is imperative that anyone commenting on this claiming to put forward an ethical argument that they must be fair and truthful in their descriptions. CCA has failed badly.
Every day we fail to take the necessary action results in more impacts around the world and more deaths.
Hard evidence is needed for this statement and claims that every extreme weather event can be put down to climate Change are rejected by most climate scientists. Don't forget some of the worst flooding in the Lake District took place in the 18th century!!

However there are loads of things we can be doing  apart from divestment and Net Zero 2030. (see Net Zero by Dieter Helm).

Rather than stopping commuters getting on the Tube for work, there is much the churches can encourage and do;

Reconsider  transport, ( I had to smile that at a recent Chapter Meeting when Net zero was discussed, two incumbents drove three miles in their Land Rovers! To be smug, I cycled.)

Use of water, from economy to water butts

Ways in which one keeps warm. This is now very hard for any on a limited income e.g. a pensioner relying on State Pension.

Judicious planting of trees, peat restoration (no mention by churches?) not to mention biodiversity.

Food; the sources need considering

And fun things; I grow rowans from seed to give away. This can also challenge people to think.
We have urged both the Commissioners and Pensions Board to consider the points made above in conjunction with Paris Agreement compliance in their upcoming review of fossil fuel investments.
We urge you to use your influence to encourage the church to divest from all fossil fuels ahead of COP27 in Egypt in November to demonstrate the prophetic voice of the Church for the young, the most vulnerable and the poorest and in the face of the destruction of God's Creation.
These are emotive arguments, but first CCA needs to put its own house in order, considering both their disruptive activities and Conscious bias of their statements.  
Total divestment from fossil fuel companies would allow the Church and the Archbishop in particular, as he did so eloquently concerning refugees, to speak more clearly on how large fossil fuel companies supported by government are contributing to the increase in global temperatures. It is only by divesting entirely, that he and the Church would not be exposed to the easy criticism from the media that comes from still having investments in oil and gas.
Really. It is only some of media eg Guardian

Perhaps this should also involve total avoidance of fossil fuels! and everything dependent on them;

Mains Water supply, which uses Chlorine which made by a process using natural gas.

Hospital and medical equipment not only PPE Having had a big operation this year I see how much material from fossil fuels used either in equipment, medicines, ppe, dressings etc

Internet! Mobile Phones, PCs  Vast energy (generated from fossil fuels is used.) 

Fertilisers  from Haber/Bosch process. If this is stopped there would be mass starvation

How build renewables without fossil fuel powered machinery ehg turbines on or offshore

Obtaining minerals for "electric revolution".  To effect the electric revolution double the amounts of Copper, cobalt nickel Lithium and rare earths would be needed. This is an impossible mining problem. (I was employed as a mining and exploration geologist for copper.)

They make several omissions;

There is no mention of nuclear energy, which is a no-no to groups like friends of the Earth and Green Peace. Note the mess Germany is with energy having closed down nuclear.

And then the problems of renewables; they are dependent on wind and sun. There is no backup eg batteries when the sun doesn't shine and the wind blow. Many assume, wrong, that battery backup is already here. It is not.
When no wind in winter coal power stations have to be switched on!! Also gas-fuelled power stations are at full blast.

Yes , there is a conflict of need to reduce emissions drastically AND tokeep the lights on. If the lights are not kept on, as they may not be this winner, many will suffer and too many will die.

Renewables will not keep the lights on, thus hardship of every kind results.

This is the danger of green ideology
Christian Climate Action
Christian Climate Action is an ecumenical community of Christians supporting each other to take meaningful action in the face of imminent and catastrophic anthropogenic climate breakdown. We are inspired by Jesus Christ and guided by the Holy Spirit.
This is rather arrogant and super-spiritual implying those who disagree are not proper Christians. This has been said on more than one occasion.

I go with Paul 2 Cor 10 vs7
Following the example of social justice movements of the past, we carry out acts of public witness, nonviolent direct action and civil disobedience to urge those in power to make the changes needed.
This is a simplistic appeal as it was not case with anti-slavery and other issues eg 19th century. 

What is called Non-violent action is often appalling behaviour, disruptive the lives of others e.g blocking roads, stopping workers travelling by tube to work
 PERSONAL NOTE.

As this only came out yesterday I felt a rushed job was better than no job and given time my case would be better – and better expressed.
j
g
b