Many will have heard the quip about Bibles "If the Authorised Version (KJV) of 1611was good enough for Pau, then it's good enough for me!!
Some take this seriously think the old version of the bible is the traditional. Others think it the most reliable – which it is not.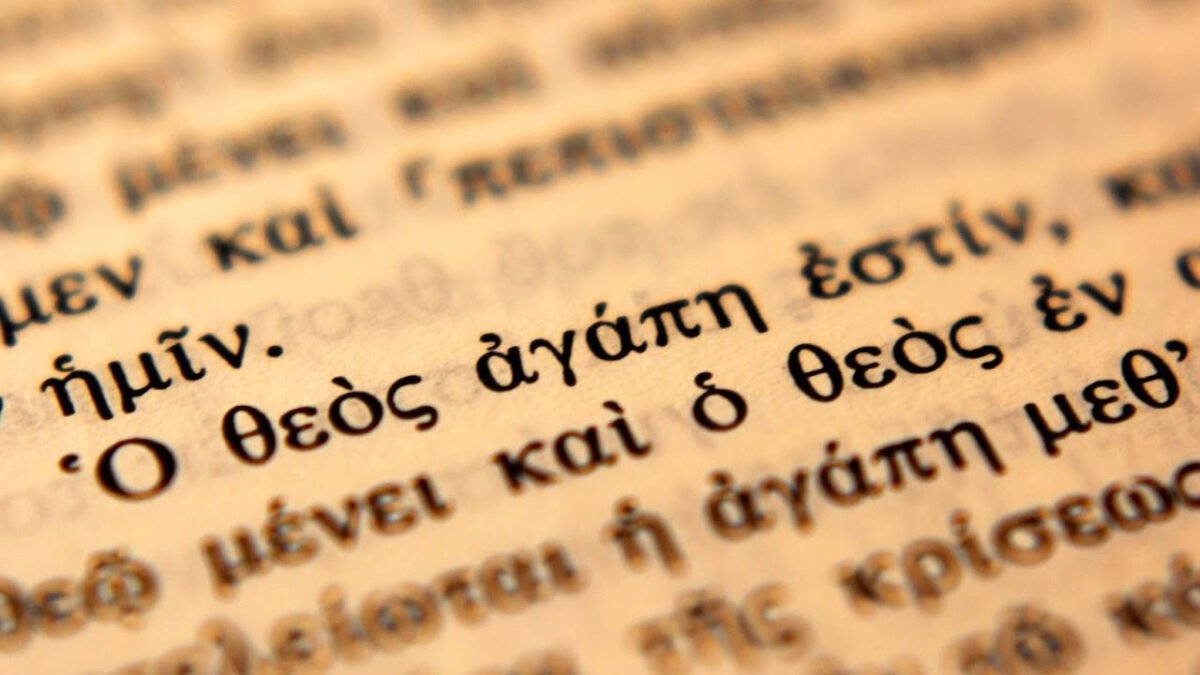 Yes, the New Testament was written in Greek, not Modern Greek nor the Classical Greek of Plato and Aristophanes, but Koine, or everyday, Greek of the Ist  Century AD or CE if you prefer (CE= Christ's Era).
Until recently most people training for ordination had to learn New Testament Greek as part of their course. Many found it a trial and often stopped after having floundered with Mark's Gospel. Today, at least in the Church of England, fewer and fewer budding vicars are expected to learn even a little greek.
As a result, most clergy are totally dependent on translations. There are a vast number of English translations which vary in quality. Some are more literal than others. One serious issue is that translating committees can impose their biases, whether evangelical, catholic or simply being PC or woke! I use the NRSV with reservations, but get the impression that the latest version is trying to hard to be acceptable, thus rephrasing "slave girl" and "enslaved women" as it is less offensive. I reckon any kind on enslavement or being a slave is offensive! If parts of the Bible offend modern sensibilities then so be it. Some of the worst version are one-man band paraphrases like the Living Bible (now almost dead) and the Message, which pours the author's interpretations over the text. At times the original meaning is lost.
There are those who argue that many trainee clergy, though having great potential, are not up to learning Greek along with everything else. Is that really so? As a vital part of ministry is preaching and teaching the Bible, then surely some grasp of the original language would be valuable? I can here some readers applauding me and others not.
Reading the New Testament in Greek is tough but very rewarding. It is tough, or very tough, for anyone who's not a natural linguist. That includes me as I have never found learning foreign languages easy. At school I scraped French at O level/GCSE and failed Latin twice. I did better at German. When in Africa I picked up a smattering  of Swahili, Lutoro and Afrikaans!
At theological college I opted for an Honours degree in theology and was told to learn enough to read Mark's gospel before starting. In my course I had to study Matthew, John and romans in Greek  and thus left college almost being able to read the Greek Testament.
During my ministry I used the Greek New Testament often, but read it regularly half the time. Some would say I should have used an Interlinear, but didn't as the temptation is to look at the English rather than the Greek.
Most of the time, I used the 3rd Edition of the Aland, Black etc text of 1975 (United Bible societies). I like that as it had a mini dictionary at the back. If I wanted a bigger dictionary/lexicon the Mens' Society at St Paul's Wigan gave me the massive Arndt-Gingrich lexicon when I left in 1978.
And so I have struggled on, reading a bit almost every day. Parts, like John's writings, I find straightforward, but chunks of Luke and Paul are difficult. I find it valuable as when reading the NT in English it is so familiar that it washes over me and I learn nothing new. When I read it in Greek, I read very slowly because of my indifferent skills in Greek. I often have to look up a word or parse a verb. That means that in my struggle I understand it better.
At times I find translation inadequate, either by putting a bias on the translation , or that something is omitted in the translation. An example is at the end of John's Gospel, where Jesus is putting Peter in his place. In most versions in Jn 21. vs 19 and 22 Jesus tells Peter "Follow me." The Greek is much blunter. In verse 19 the Greek is to be translated "Follow me", but in vs 22 after Peter was trying to be clever Jesus said to him "You follow me" , with an emphasis on YOU. I imagine Peter was annoyed with Jesus at that point. Jesus was telling him "Don't look over your shoulder at John, look to yourself first and make sure YOU follow me."
But I needed assistance!
Several decades ago in a Roman Catholic bookshop in Liverpool I found a book by Fr M. Zerwick A Grammatical Analysis of the Greek New Testament. It was a great help, but the text was ting and some years ago I found a big print version, which is now somewhat battered.
Then this year I found The Greek New Testament; readers' edition produced at Tyndale House, Cambridge
It is not the most exiting binding!
Amazon USA https://www.amazon.com/Testament-Produced-Tyndale-Cambridge-Readers/dp/1433564157/ref=sr_1_1?crid=28VU64L00KULL&keywords=greek+new+testament+reader%27s+edition&qid=1639604731&sprefix=greek+new+testament%2Caps%2C245&sr=8-1
Amazon UK https://www.amazon.co.uk/Testament-Produced-Tyndale-Cambridge-Readers/dp/1433564157/ref=sr_1_1?crid=2GG9T0R5RC1TJ&keywords=greek+new+testament&qid=1639604864&sprefix=greek+new%2Caps%2C167&sr=8-1
Here is the description from Amazon (accurate)
This reader's edition of the Greek New Testament text combines the new Greek New Testament, Produced at Tyndale House, Cambridge with a running list of glosses of every word in the Greek New Testament that occurs 25 times or less.

Those with limited knowledge of Greek can smoothly read the Greek text without needing to constantly refer to other reference resources–accelerating their facility with the Greek text and making their time more rewarding and more enjoyable as they read the very Word of God.

Running glosses of any Greek word occurring 25 times or less in the New Testament, placed below the Greek text
Complete morphological parsing of Greek verbs used in uncommon or difficult forms
Dictionary in the back defining words occurring more than 25 times
10-point Adobe text
Single-column format, in accord with the earliest Greek manuscripts
Ribbon marker
Smyth-sewn binding
Packaging: Slipcase
Parsing
This is what the pages look like. The text is in a clear font and below are words which occur less than 25 times in the NT and then parsing less well-known verbs.
Note, there is no apparatus of alternative readings as you find  in the UBS test. (It's worth having both)
I have now been using my copy for a month. It does make my reading easier and more fluent. I still have to check out common words! The parsing helps me a lot. I still need to use a Lexicon and check the grammar. On the grammar this version makes it easier to understand the parsing and use of the verbs.
If I need to check alternative readings I have to look at my Aland/Black NT, but most of the time I don't need too. Clearly, if I am doing detail reading I need to but most of the time I want to just read the basic text. It doesn't make a great deal of difference most of the time as in John 18 vs 5 where most have Jesus saying "I am" rather than "I am Jesus".
So, to conclude, I have found it a great help in making for easier reading.
To use an alpine climbing analogy, it is rather like climbing on a via Ferrata rather than the north Face of the Eiger!!
But using an Interlinear is like watching a video of an Alpine climb!!
I have found this a great help in my study of the Greek New Testament and it should make the Greek more accessible to far more people.
I hope it does something to reverse the decline of reading the Greek New Testament among clergy. It might even reduce the amount on banal preaching, where bible passages are used as pegs to hang out one's own ideas rather than preach and teach what the New Testament writers wrote.
To help you more, you can take a DailyDose, a short 2 minute video on a verse of the Greek , explaining and parsing it. It soon adds up to a lot
DailyDoseofGreek.com provides ongoing accountability to busy pastors and other Christians, helping them to read the Greek New Testament daily and progress in their Greek skills.
It is well worth subscribe to the email