How can a leading coal economist become such a guru for green issues and alternative and small-scale technologies?
That is the legacy of E F Schumacher (16 August 1911 – 4 September 1977). Migrating from Germany from 1950 to 1970 he was Chief Economic Adviser to the National Coal Board, Yet this leader of old, polluting technologies became the prophet for the opposite and his legacy is his opposition to nuclear energy and various green groups named in his memory. Whether acknowledged or not he has had a great influence in Green Britain! https://en.wikipedia.org/wiki/E._F._Schumacher
I came across his work in the 70s as I read Resurgence  and The Ecologist, as his name often came up. I admit to lapping up his ideas. To my surprise I found that he lived in my home town of Caterham in a lovely house opposite our school playing fields. For four years I cycled past his house every day on the way to school and then for another four years after that saw it from our geography, history and science blocks. Two of his sons were several years ahead of me in school and mother taught one of his daughters maths. Yet I knew nothing about him when at school when he was advising the National Coal Board.
After 1970 he seemed to change his economics to small scale projects and upped his opposition to nuclear energy. On the former he was influenced by visits as an advisor  to Burma. I shall return to nuclear energy. That was music to my ears and most environmentalists of the day. He published his ideas in the book Small is Beautiful in 1974, which I got in paperback form some years later.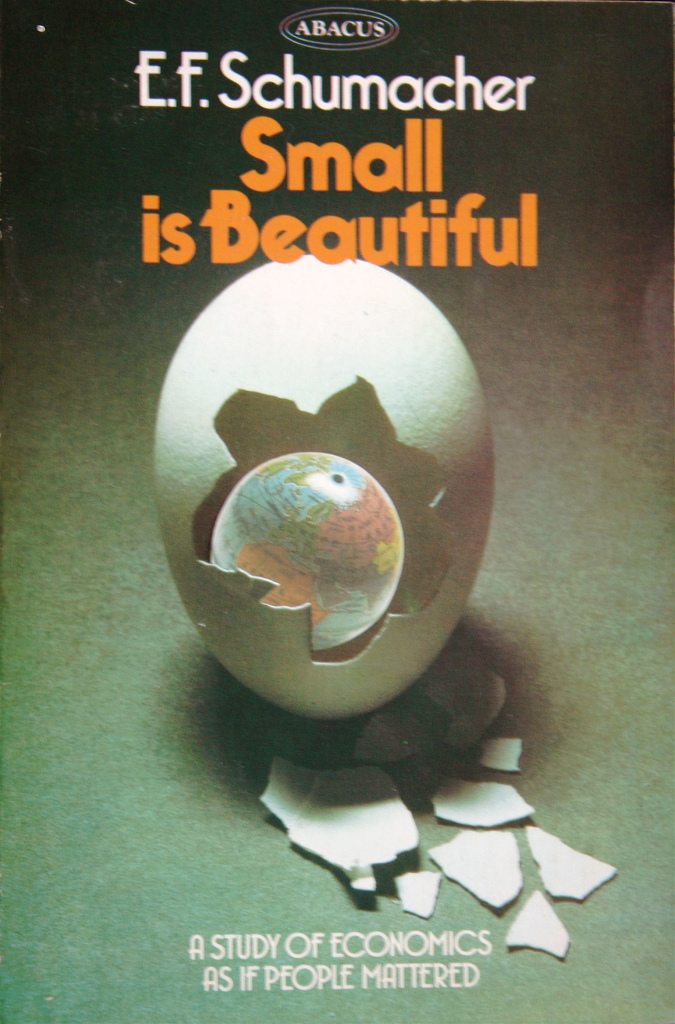 The subtitle of Small is Beautiful is a study of Economics as if People Mattered. I won't go into that , but it is behind much of the small-scale arguments of the last 40 years, including Intermediate Technology. It is a classic of the 70s and significant in the whole green movement. But I will focus only on his views on nuclear energy.
Chapter 8 would shock many today, where he expresses his regret that so many coal mines were closed down in the 60s, despite have enough reserves. Thatcher continued in the 80s and Scargill criticised her for it. Scargill could see how the coal industry was being closed down, despite there being plenty of coal. All this was before the serious air pollution from coal was fully acknowledged and before an understanding of climate change.
Chapter 9 of Small is Beautiful is entitled Nuclear Energy – Salvation or Damnation?. EFS goes for the latter, where perhaps purgatory might be better!! The lecture was given as the Des Moeux Memorial Lecture "Clean Air and future Energy" in 1967. When discussing the lecture for his book in 1973, he points out the change in perception on nuclear energy. In 1967 most were in favour but the tide had turned by 1973, and though he does not say it because of the activities of the Sierra Club, the new Greenpeace and others. EFS was just one who added his pennyworth in this lecture. My own memory is that nuclear energy was seen as good thing from the fifties and by the 70s all environmentalists were opposed to it for its horrific potential dangers.
He claimed " Of all the changes introduced by man into the household of nature, large -scale fission is undoubtedly the most dangerous and profound." He then says that the building of power stations, whether based on coal, oil or nuclear (note that as yet gas was not used), are decided on economic grounds rather than the 'social consequences' which may result from the curtailment of the coal industry, which was in full swing in the 60s. The social consequences were unemployment and destruction of communities, which occurred in all old mining villages and towns. I witnessed them in Wigan and Chirk in the 70s and 80s. What was over-looked he claimed was the 'incredible, incomparable and unique hazard for human life' of nuclear energy. To buttress his arguments he used the example of nuclear weapons and their extreme destructiveness. He then describes the radiation and points out there is no safe way of storing "used" material as it will radioactive for ever.. Arguments still used today.
On p116 he notes the problem of air and water pollution (with coal burning being implicit), but says there is a 'dimensional difference' and 'radioactive pollution is an evil of incomparably greater' dimension' than anything mankind has known before.' and rhetorically 'What is the point of insisting on clean air, if the air is laden with radioactive particles?'
This claim was very plausible in the early 70s and carried many with them, including Tony Benn. It convinced most environmentalists, including myself.
According to EFS the change came in February  1972 with the government report Pollution; Nuisance or Nemesis? The report expected nuclear to produce 50% of electricity by 2000. They highlighted the chief concern – which was the storage of radioactive waste  which was forever.
EFS concluded "No degree of prosperity could justify the accumulation of large amounts of highly toxic substances which nobody knows how to make safe." That has been the cry of environmentalists ever since.
EFS's arguments against nuclear energy have been held by groups like Greenpeace and Friends of the Earth ever since, who were very successful in their propaganda. I can't criticise them as I totally swallowed the lot and was anti-nuclear. However they swung opinions against nuclear, which now produces only 20% of electricity in Britain.
More humorously Friends of the Earth had a yellow tea shirt with the words The only safe fast breeder is a rabbit. We bought one, partly at that time I was a curate in a Lancashire church and the vicar, my boss, was always telling us we should have children ASAP! He was not a nice, cuddly vicar!! Many parishioners were aware of this, so my wife turned up to parish events in the T-shirt! I left a few months later and then worked under the nicest vicar ever. We had our first child in that parish, and he and his wife were godparents. He was my unofficial mentor for 25 years. The Church of England can be quite Jekyll and Hyde.
One of EFS's main themes was the danger of nuclear energy and how it was far worse than anything other form of energy. He was aware of pollution but did not consider the horrific air pollution from burning coal as totally disastrous. He could have noted the Clean Air Acts of the 50s after the great smog in London and the frequent pea-souper fogs. I think the last pea-souper was in 1963 which almost reached our house in Caterham and probably equally close to EFS's house half a mile away and a lower altitude. The accumulated death-rate from coal over the years is immense and still is so in many parts of the world. So how does nuclear compare?
Accident rate from nuclear power.
As soon as one mentions nuclear weapons as EFS did in his lecture, pictures are conjured up that an accident in a nuclear power station would be like Hiroshima, first in its blast and next its radiation. So;
nuclear, no thanks!
Any accident creates great media interest, specially when creative writing takes precedent to fact. The three most well known are Three Mile Island in 1979, Chernobyl in 1986 and Fukushima in 2011. The resultant deaths were none at Three Mile Island, possibly one at Fukushima. Chernobyl was serious with 28 killed on site, 34 others and   up to 4000 from cancer. The whole area of the disaster zone was evacuated. here is a list of all accidents from Wiki. Fukushima was no Hiroshima as one person was possibly killed and the death and injury was caused by the tsunami and not a nuclear accident. Many of the reports on Fukushima have been very creative!!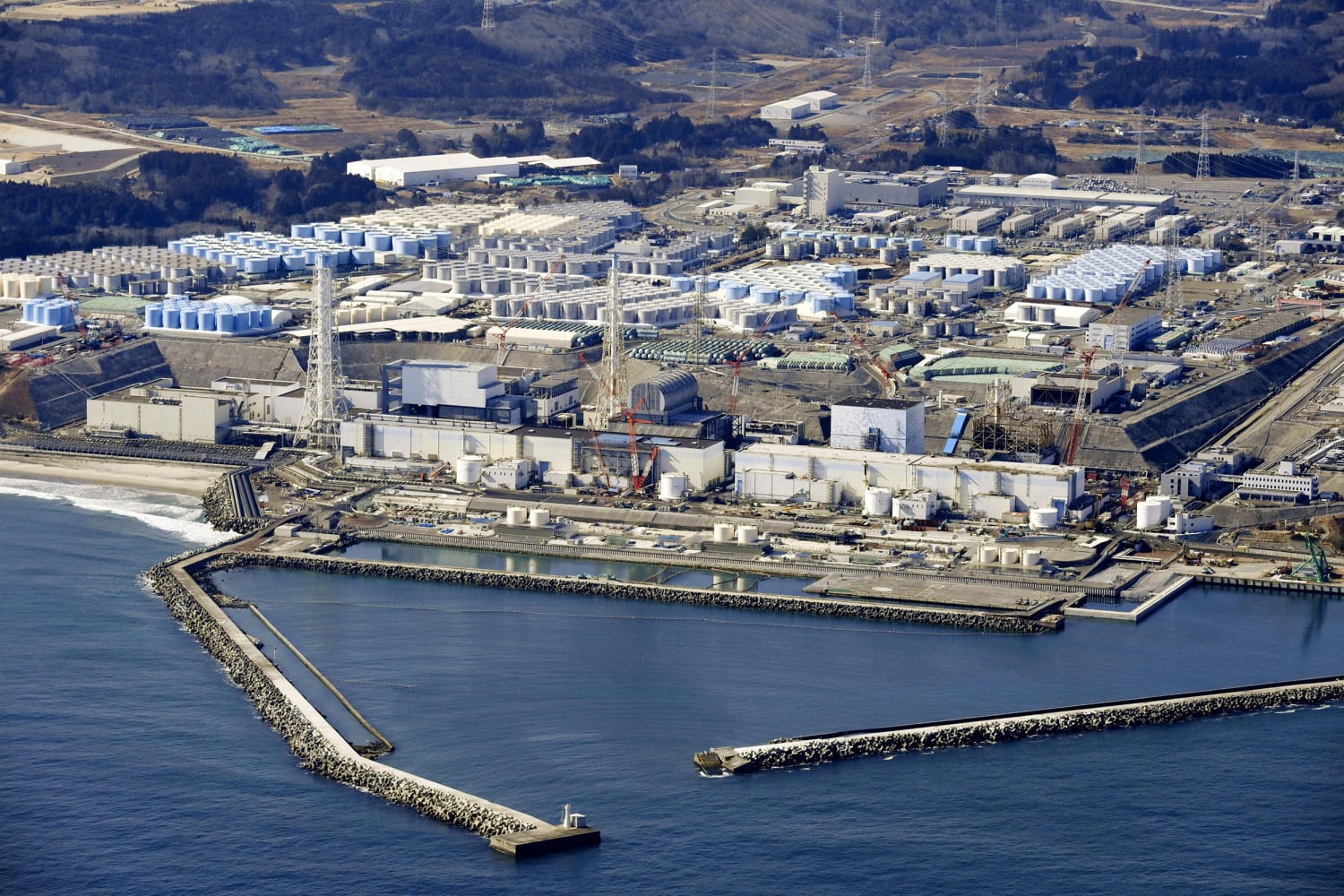 Here is wiki's list of accidents;
https://en.wikipedia.org/wiki/Nuclear_and_radiation_accidents_and_incidents
Chernobyl terrified many but compared to coal it was less lethal, as fatalities from coal are simply individuals who die one by one from air pollution  but the table from this New Scientist article puts it into perspective.  If you include deaths of miners then that ran at 1000 pa from 1873 to 1953 in Britain, which includes the Gresford disaster of 1934 which killed 266. This was just one of several.
This New Scientist article considers the relative death rates of various forms of energy per TWh. Brown Coal includes lignite which is used in Germany to replace nuclear and nuclear power stations were shut down after Fukishima.
https://www.newscientist.com/article/mg20928053-600-fossil-fuels-are-far-deadlier-than-nuclear-power/
Compared to coal nuclear is a very safe energy – and one of the safest. I find it difficult to understand why EFS gave the lecture as it shows an extreme Unconscious Bias – or was it Conscious?  However he set the tone for the next half century (or supported it) and his perspective and that of Greenpeace and Friends of the Earth has become accepted wisdom for a half century of environmentalists – though some like me repented.
In November 2021 there were strong voices for nuclear energy at COP26, but others counteracted as did the activist scientist Michael Mann, commenting on twitter.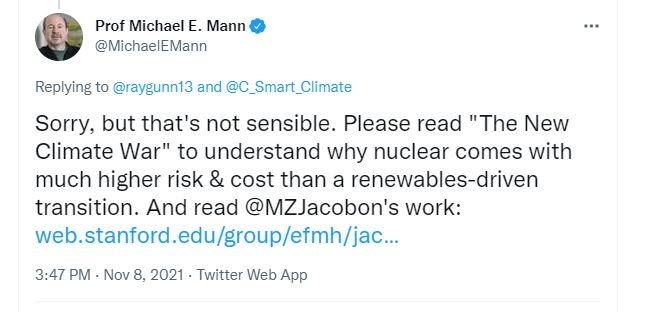 Friends of the Earth has been consistently anti-nuclear since 1971 , as has Greenpeace.
https://policy.friendsoftheearth.uk/policy-positions/nuclear-energy-our-position
Both are also opposed to GMOs and Fracking, presenting their arguments with Conscious bias. In turn they influence most green groups in Britain and elsewhere, resulting in calls for divestment (keep it in the ground) rejection of nuclear energy and a total conviction that renewables can provide all energy needs in the immediate future. They cannot..
At COP26 there was a grudging acceptance by many that nuclear needed but Greenpeace retained its opposition of 50 years.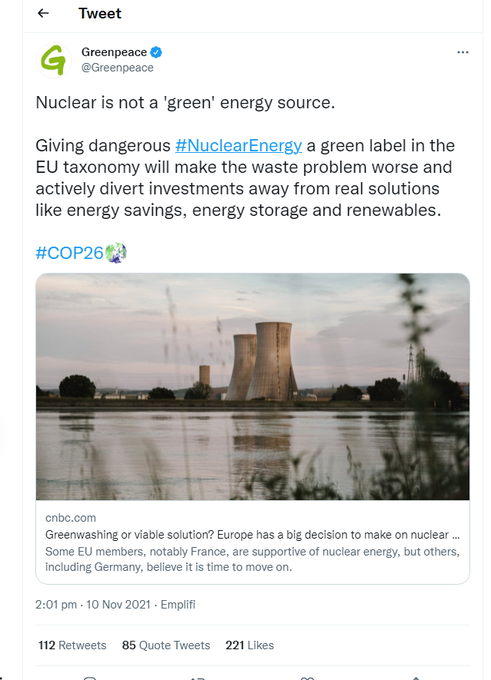 At COP26 some environmentalists slightly, and grudgingly, softened their opposition to nuclear energy as did Andy Lester of A Rocha in an interview  with the evangelical TWR (Trans World Radio)  https://youtu.be/aUzbpWGuGuU
It is a shame that a Christian environmental group should take such a negative attitude, though Lester regards nuclear as acceptable only in the short term to be rid of fossil fuels. Christian environmentalists often sing from the Greenpeace and Friends of the Earth hymnbook and do not wish to listen to other viewpoints. Hence the carious churches' studies on energy, climate change etc  do not allow any breadth of opinion , beyond "keep it in the ground"!! He did not like being challenged either!
However some Climate campaigners like Mark Lynas and James Hansen have accepted that nuclear is needed to tackle climate change.  At least some environmentalists recognise that if we are serious about tackling climate change, we need nuclear power as part of the solution.
Nuclear Energy is like tree planting. The best time was decades ago, and the next best time is today.
I was disappointed  when I found that EFS, whom I almost revered in the 70s has left a flawed legacy, which has led both to the energy crisis of this year and the growing issue of climate change. Throughout the continent of Europe , as well as Britain, green NGOs have stymied the development of nuclear energy – and throttled it in Germany, and due to hatred of gas, it has meant an increased use of coal.
Not good.
P.S. Why did twitter restrict this?
Probably a complain from the anti-nuclear mafia