Buckland was one of the great 19th century geologists who taught at Oxford. Here is a sketch of him teaching. His students included Charles Lyell, Samual Wilberforce and one  saint, Saint John Henry Newman.
In June 1842 Charles Darwin undertook his last geological field trip. He was at his father's house, The Mount  in Shrewsbury, that month and after a winter of sickness, he felt somewhat better. Thus, he went in his gig to Snowdonia to assess whether Buckland was correct in identifying proof of a former Ice Age. In October 1841 William Buckland travelled to Wales with Thomas Sopwith (his grandson designed the Sopwith Camel, a WW1 fighter plane) to see whether Agassiz could be right about a former Ice Age. In a few days of horrendous Welsh weather Buckland identified all the main glacial troughs.
Buckland was one of the leading geologists of the early 19th century but there is no decent biography of him apart from Rupke's study  The Great  Chain of Being (1983). His eccentricities were numerous, but are mentioned more than his geological work.
He was the first to find a Mesozoic mammal, worked with Mary Anning on Dorset fossils, wrote a Bridgewater treatise on geology and, my interest here, introduced the concept of Ice Ages to Britain in 1940.
Before then what we now see as glacial deposits and glacial geomorphology was explained by an effect of the Deluge. In the 1830s Charpentier, a mine own in the Rhone valley, and Louis Agassiz, of Neuchatel and then Harvard, recognised that glaciers were far more extensive and explained erratics like the Pierre au Bot above Neuchatel. Darwin was originally totally unconvinced and preferred floating icebergs to explain erratics and had explained the Parallel roads of Glen roy as fluctuations of sea level, only to be trounced by Agassiz in 1840.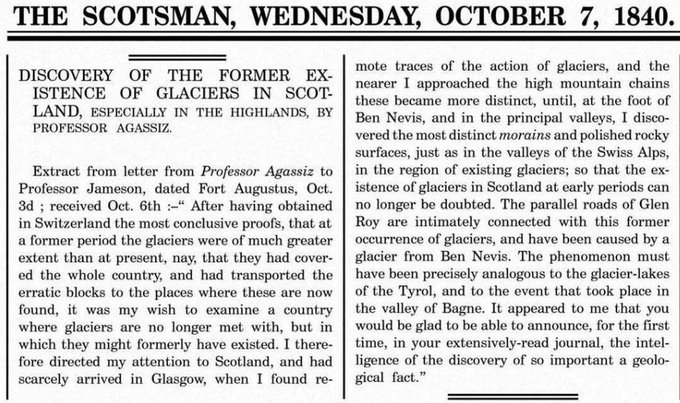 When he visited Switzerland in October 1838 and met Agassiz, Buckland was convinced of an Ice Age – note the singular, as then no one envisaged a whole series over 2 million years. Two years later in 1840 Buckland, Agassiz and Lyell travelled north on a glacier hunt.
Just south of Lancaster they found signs of glaciation as it is the southern limit of a drumlin swarm. I live 10 miles south of Lancaster and see them whenever I go north. In the Lake District they noticed the glacial cwms on the east side of Hellvelyn. Going further north they checked out Darwin's work at Glen Roy and found what he admitted was a "great blunder" . It was not a lowering of sea level but a lake dammed by a glacier as Agassiz had found by the Aletsch glacier.
And so in October 1841 Buckland headed for Snowdonia with his friend Thomas Sopwith.
Buckland dressed for Welsh Glaciers by Thomas Sopwith, note the writing. This shows Sopwith's sense of humour, but some humourless sciency types thought it was getting at Buckland for believing a young earth. That didn't stop a recent biographer of Buckland saying it was on the way to Scotland!!
View from top of Y Garn 3104ft showing the Llugwy trough leading to Capel Curig, Llyn Idwal, a morainic lake. Buckland visited the vlley behind Tryfan in the middle distance and note glacial features
To the left is Nant Francon, viewed below – with embellishments.
In 1831 de la Beche painted this watercolour to show that little rivers could not produce big valleys. He was right, but ideas of glaciation were a few years ahead.
This map shows the routes of both Buckland and Darwin in 1841-2 with some further details. I have retraced both routes.
The lake Llyn y Gader is WSW of Snowdon summit. The glacial troughs were sorted by Buckland in an amazing bit of work.
for detail please read my paper in Proc Geol Assoc BucklandDarwinWalesIce
Snowdon from the old coaching inn Plas y Brenin taken early morning. Buckalnd identified the glacier coming down here from Snowdon, but it also went down Nant Gwynant.
Buckland and Sopwith started at the glacial lakes at Ellesmere before heading for Snowdonia. despite filthy weath they sorted out the essential glacial features in a few days
One place he stopped was by Rhyd Ddu (the start of the quietest path up Snowdon, which I climbed last year on the 60th anniversary of my first ascent of Snowdon in 1961. It was about my 50th ascent.) . There he found a roche moutonnee by Llyn y Gader
which Tom Sopwith sketched
He also did a water colour of Buckland inspecting the roche moutonee which some think is Mary Anning. Compare the scenery with the pen and ink sketch and photo.
It even appears on book covers!!
This is an interesting sketch in Llanberis  made in the 1820s. The unannoted copy is to be found in the Oxford Museum but this with the word "Glacier" added is found in the Agassiz collection at Neuchatel. Thanks to Hugh Torrens telling me to go and find it while in Neuchatel.
On the left is one of the many erratics blocks in Llanberis Pass. Snowdon is up to the right.
For more read my paper which deals with Darwin as well.
Darwin spent a few days in Capel Curig and then several around Cwm Idwal before moving on to Moel Tryfan and then Llanberis and Snowdon.
For further reading
Darwin, Buckland and the Welsh Ice Age, 1837 – 1842, Proceedings of the Geologists' Association 123 (2012) 649–662
the original paper